Skip to content
Skip to navigation
Fashion & Style
How To Style Animal Print
by Chloe Wilshere, Content Creator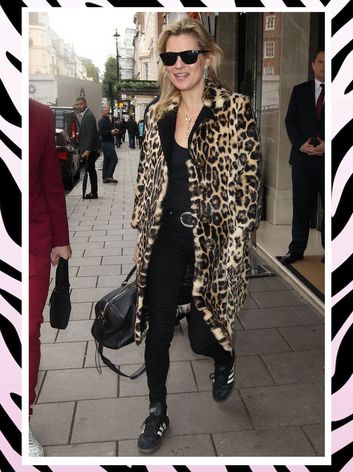 If there's one trend that can definitely stand the test of time, it's animal print. As much as trends come and go, you can always guarantee that animal print is bound to come back again. Over the past few years we've seen leopard, snake, zebra and cheetah prints take over our wardrobes and the best part about buying into animal print is that you know you'll get to wear it again in seasons to come.

To call animal print a trend also feels a bit strange seeing as it's something that's been around since forever, it might as well be a neutral. The best part about animal prints is that it covers all areas, whether you want an all over leopard print dress or animal print accessories to go with an all black outfit.

And if there's anyone that knows a thing or two about how to style animal prints, it's the A-Listers and street style stars. So we've rounded up 8 different ways to wear animal print with the help of the stars that will always be on trend.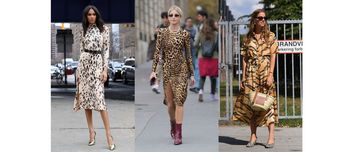 1. A Leopard Print Dress
A chic leopard print dress is something every woman should have in her wardrobe. They're an elegant approach to the print, whether you to choose to dress it up, wear it casually or want to smarten it up for the 9-5.

And the best part about getting a leopard print dress is that it doesn't matter whether you choose leopard, snake or tiger print, it will always look chic.

Whether you choose to go for something more tight fitting like the queen of street style Caroline Daur and dress it up with jewellery and boots, or want to wear something more flowy and accessorize with a straw bag in the summer months, or smarten it up like Cindy Bruna by throwing on a court, any way you choose to wear your leopard print dress is always going to look good, be on trend and a key piece in your wardrobe.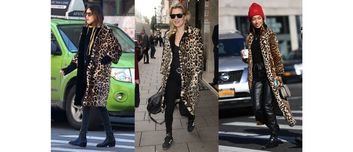 2. A Leopard Print Coat
Other than being major style icons, there's another major factor that Alexa Chung and Kate Moss have in common and that is of course being the queens of styling leopard print coats.

The leopard print coat is a key piece to any woman's wardrobe throughout the winter months, a timeless piece that will always be on trend.

But if you're not sure how to style it, there's one key way to wear it as shown by Kate & Alexa, and that's simply with all black.

This year, take inspiration from street style stars by wearing your leopard print coat with leather-look trousers and add some colour in a hat.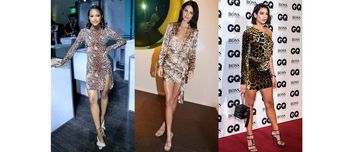 3. For Going Out-Out
If you're going 'out out' and are struggling to decide what to wear, then opting for an animal printed mini dress is always a good choice.

As demonstrated by the celebs, an animal print dress is the perfect choice for a night out. It requires minimal effort for styling, all you need to do is grab a neutral bag and throw on some 90s strappy heels and you're good to go for a night on the town.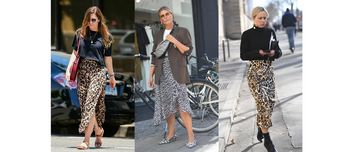 4. A Leopard Print Midi Skirt
Last year saw the leopard print midi skirt take over our Instagram feeds, and it looks like it's here to stay. With influencers and celebrities being seen wearing it here, there and everywhere, it's a key piece that needs to be added to your basket as it's not going anywhere soon.

During the winter months a satin bias cut midi skirt works great with a black roll neck jumper tucked in, then it's your choice to whether you dress it up or down with heels or boots. As spring approaches, take inspiration from street style stars and wear your leopard midi skirt back with a white tee and blazer. For summer, look to Jessica Biel for inspiration by wearing the skirt with a lightweight tee and sandals for style and comfort in the sun.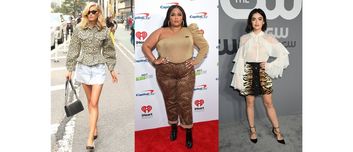 5. Animal Print Denim
You can't go wrong with having a few pieces of denim in animal print form in your wardrobe. Though they might seem like scary things to wear, as seen by the celebs they are statement pieces that, when paired back with neutrals, are easy to wear.

If you're looking to wear a pair of animal printed jeans like Lizzo, then it's best to go for a neutral coloured top to let the denim do all the talking. Lucy Hale shows us how you can dress up an animal printed denim skirt by pairing it with a Victorian style ruffle blouse and strappy courts. We also love Elsa Hosk in her peplum, leopard print jacket. Paired back with a light blue denim skirt and black accessories to let the jacket be the statement piece.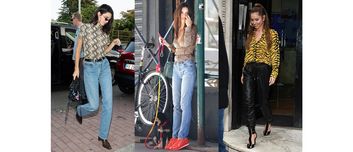 6. Animal Print Top
As seen on the celebs, an animal printed top gives any outfit that extra bit of wow factor. Whether it's something you want to wear casually or on a night out, they're chic pieces in your wardrobe that will be worn again and again.

No matter what print you choose, an animal print top sits back perfectly with denim as demonstrated by Kendall Jenner and Emily Ratajkwoski. Or have your animal printed top be the focus of your outfit like Cheryl as she wears a yellow tiger print shirt with leather-look trousers.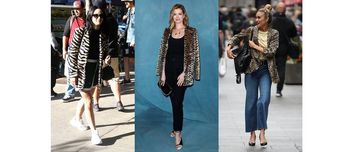 7. Animal Print Blazer
Celebrities show us that an animal print blazer is a super chic way to wear the always on-trend print. Whatever form of animal print you go for, it can be worn in a number of ways. Take Ashley Roberts in her leopard print blazer, slogan t-shirt and jeans or Camila Mendes in her tiger printed blazer which she's styled up super casually. Or dress it up to go out like Anne Hathaway.

However you decide to wear it, it's a piece that will always be on-trend and statement making.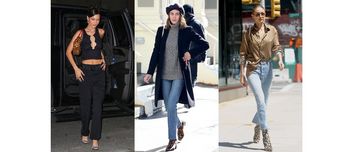 8. Animal Print Accessories
You quite simply can't ever go wrong with an animal print accessory. If you're looking for that extra bit of something to add interest to an otherwise plain outfit, then an animal print accessory is your answer.

Do it like Alexa Chung or Gigi Hadid by wearing an animal printed boot with neutral, plain pieces of clothing. Or if you're going out-out and looking to add some interest to your plain black outfit, then having an animal printed bag to add interest like Bella Hadid is the perfect way to do it.