Skip to content
Skip to navigation
Features
20 Tips To Wind Down After A Long Day
by Adam Fletcher, Copywriter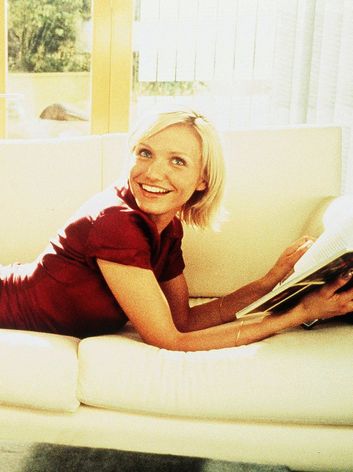 Andddd relaxxxx! Right now, putting positivity, self-love and self-care practices at the top of your to-do list has, arguably, never been more essential. Here's why: as we begin to welcome the 'new normal', there's no hiding from the fact that we're all feeling a little bit more stressed. Plus, not to mention, as our bedrooms have become the place that we all work, work out and go out-out (thanks to face-to-face apps, obvs), so our days seem twice as long at the moment too. Tbh, in the last two weeks, it possibly feels like you've only left your boudoir for fridge trips and bathroom breaks… Sound familiar?

But, winding-down can sometimes be difficult to get into. You might be the type of person who's in the habit of spinning so many plates at once that you skip this part of your day completely. But, if that doesn't sound like you, readers, perhaps you're the kind of girl who avoids partaking in relaxation rituals because you can't sit still (even if it is only for five or ten minutes), you can't put your devices down (your BFF might have messaged you), or you shudder at the thought of being alone with your own thoughts for an evening (it's not as awks as it sounds). Failing that, you may well just be stuck for ideas on how to have the perfect night in that you 100% need.

Well, whichever of the above 'you' are, we're here to give you 20 easy-to-recreate ways to unwind, restore, and reclaim some much-needed time back for yourself - all from the comfort of your own bedroom. It could just be your preferred place to pamper, read and reflect, after all…
1. Get Into Something Cosy
First thing's first: change into something (even more) comfortable. Yup, you've probably been wearing joggers and a hoodie all day, but nothing beats a snuggly pair of PJs, slippers and a fluffy dressing gown.
2. Prep Your Room
'I'm winding down' is the best excuse to light a candle (or five). Did you know that the soft illumination helps you to channel chill vibes as it gets you into a meditative state of mind? Win.
3. Bring On The Bubbles
…Nope, we're not referring to the bottled sort. A bath might be an obvious go-to when you're planning a wind-down session, but there are ways that you can make it look and feel even more glowy: just add a few drops of your favourite essential oil.
4. Use A Roller
Nights in aren't 100% complete without one of these cute little tools. Rose quartz facial rollers not only reduce puffiness, but this particular crystal is said to attract feelings of love, too. Just keep rolling…
5. Cook A Tasty Dish
Now that you're finished with the bathroom rituals, it's time to whip up something that you love. Looking for inspo? Keep reading our blog posts this week for ideas on easy dishes you can make at home.
6. Press Play
Hello food coma, hello curling up on the sofa. The next thing to do is to press play on a new Netflix docu-series. During this time, why not do a 'brain dump' (list all the little things that you need to do), so that you can totally relax tonight?
7. Do A Face Mask
Home-made masks are the perfect way to unwind naturally, and alter how you feel about the day gone by altogether. But, if you're not feeling a makeshift mask – we get it – you could use a ready-made one.
8. Try 'The Bubble'
Take your chill factor up with one move: the bubble. First, lay down and hug your knees to your chest. Second, shut your eyes. Picture yourself in a bubble and see your worries outside of this. You are safe.
9. Spritz Your Worries Away
Meet the mood-boosting room spray, AKA the perfect way to get into a peaceful mindset. They contain essential oils, natural ingredients, and water that's been infused by your favourite crystals.
10. Time For Tea
Calm-inducing brews taste better when you've made them yourself. And, it's not as difficult as it seems. Stick the kettle on, chop some fresh mint (or raw turmeric, if you have it), add a dollop of honey and pour over the hot water.
11. Open a book
Doesn't everyone feel more peaceful after reading a book? Well, studies by the University of Sussex, found that reading for even 6-minutes can reduce stress by 50%. We're sold.
12. Listen up
If you love having Bey or RiRi on-repeat in your room - no shame there - it might be time to change the record, literally. Sounds can also help us to unwind, so you might want to try an evening story, waves, gentle rain (and the list goes on)…
13. Gently stretch
If you're looking to bring big zen energy into your room, without the help of the yoga studio, call off the search. There are so many gentle stretches that you can partake in and Youtube is full of helpful videos to stream.
14. Meditate for 5 minutes
Meditation can be scary if you're new to the practice. Like, totally scary. Start things off by sitting in a chair, and just enjoy the feeling of being held. Then, shut your eyes and try to centre your thoughts on your breath's current rhythm.
15. Start journaling
When you have a free moment near the end of your evening, reflect on how things went by answering the following: what was the best thing that happened to me today? How do I feel right now? What did I learn today?
16. Make A Grotto
Candles aren't your thing? No problem. Transform your room into a grotto with an abundance of fairy lights (not just for Xmas) or a salt lamp. If you get one with a dimmer switch, you can adjust it to suit your mood.
17. Put Your Phone Down
From #WFH selfies to stay-at-home cat memes, our smartphones are helping us to all stay connected. But, the blue light emitted from their screens causes us to feel busy-headed. Try to have your devices away 1-hour before you sleep.
18. Jot down affirmations
Keep good vibes with you wherever you are in the house: write down one affirmation and stick it in your pocket, on your fridge or on your mirror and look at it when you're feeling stressed. Here's one of ours: I am healthy, calm and relaxed.
19. Just dance
Could there be anything more fulfilling and fun than closing your door, putting on your favourite song, turning the volume up and dancing (like no-one's watching)? Not really. Well, now's the time to do just that.
20. A DIY foot spa
Last, but certainly not less important, we recommend doing DIY foot treatments. As all of our beauty appts have been cancelled for the foreseeable, a warm water soak with tea tree oil will not go amiss. Trust us.