Skip to content
Skip to navigation
Features
The Best British Films of All Time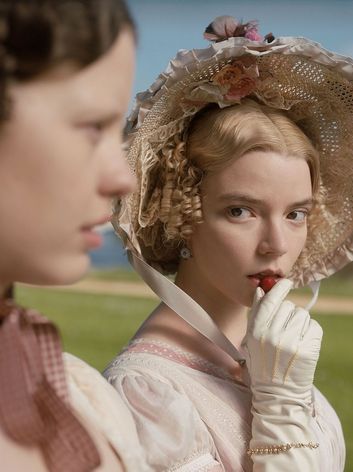 With VE day on the approach, this week is all about being proudly British and celebrating Great Britain. And what better way to do that than with some of the best British films of all time? Hollywood might have the glitz, glamour and billion dollar budgets, but great British films have provided us with Colin Firth, Hugh Grant, James Bond and humour that Americans just don't get…

So if you're looking to celebrate this VE Day with all things British, then we've rounded up the Best British films of all time that you can snuggle up to, relax and watch.
1. Brief Encounter, 1945
What It's About: A brief encounter at a railway station which leads to two married strangers gradually falling in love.

Iconic Line: "It's awfully easy to lie when you know that you're trusted implicitly. So very easy, and so very degrading."
2. Great Expectation, 1946
What It's About: An Great British two-time Oscar winning film which follows the story of a young man whose moral progress is shaped by two childhood experiences: the traumatic encounter with Magwitch, an escaped convict, and his association with the eccentric Miss Havisham and her protégée Esetella."

Iconic Line: I realised that in becoming a gentleman, I had only succeeded in becoming a snob."
3. My Fair Lady, 1964
What It's About: Audrey Hepburn plays Eliza Doolittle, a young florist. Snob Professor Henry Higgins agrees to a wager that he can make Eliza presentable in high society and find love too.

Iconic Line: "The difference between a lady and a flower girl is not how she behaves, but how she is treated."
4. A Clockwork Orange, 1971
What It's About: A classic British crime film which looks to the future where a sadistic gang leader is imprisoned and volunteers for a conduct-aversion experiment - but it doesn't go as planned.

Iconic Line: "It's funny how the colours of the real world only seem really real when you viddy them on the screen."
5. Four Weddings and a Funeral, 1994
What It's About: A must-watch British classic if you're looking for a giggle this Bank Holiday. Hugh Grant plays Charles, a committed bachelor that must face up to the fact that he may have discovered love through the course of attending four weddings and a funeral.

Iconic Line: "The great advantage of having a reputation for being stupid: People are less suspicious of you."
6. Trainspotting, 1996
What It's About: Based in Edinburgh, the film follows Renton, a young adult desperately trying to clean up his act and get out, despite the constant allure of drugs and influence of friends.

Iconic Line: "Straight away he clocked us for what we were. Small-time wasters with an accidental big deal."
7. The Full Monty, 1997
What It's About: If you're currently residing with your family or housemates, then this is the girly comedy you need to snuggle up and watch. The Full Monty is about six unemployed steel workers that form a male striptease act. The women cheer them on to go for 'the full Monty'.

Iconic Line: "We may not be young, we may not be pretty, we may not be right good, but we're here, we're live for one night only, we're going for the full monty!"
8. Lock, Stock and Two Smoking Barrels, 1998
What It's About: A botched card game triggers four friends, thugs, gangsters, loan sharks and debt collectors to collide with each other in a series of unexpected events.

Iconic Line: "You should never underestimate the predictability of stupidity"
9. Elizabeth, 1998
What It's About: A film about the British monarchy which looks at the early years of the reign of Elizabeth I and her difficult task of learning what is necessary to be a monarch.

Iconic Line: "I find the impossible far more interesting"
10. Billy Elliot, 2000
What It's About: How can we ever forget Billy Elliot? If you haven't seen it then Billy Elliot is a must-see British film. A story that follows a young boy (Billy) and his love and talent for ballet but must handle his family's disapproval.

Iconic Line: "I don't want a childhood. I want to be a ballet dancer."
11. Sean of the Dead, 2004
What It's About: If you're in need of a laugh this Bank Holiday, then Shaun of the Dead is the film for you. Simon Pegg plays Shaun, a man whose uneventful life is disrupted by a zombie apocalypse.

Iconic Line: "Go to the Winchester, have a pint and wait for this to all blow over"
12. Pride and Prejudice, 2005
What It's About: Based on Jane Austen's novel about five sisters whose lives are turned upside down when wealthy young Mr Darcy arrives in their neighbourhood. Single, rich and proud, Mr Darcy finds sparks fly when he meets Elizabeth Bennet and reluctantly finds himself falling in love with a woman beneath his class. Can each overcome their own pride and prejudice?

Iconic Line: "You have bewitched me in body and soul, and I love, I love, I love you"
13. The Queen, 2006
What It's About: We all love a film about the British Monarchy, especially one starring Helen Mirren, and The Queen is up there as one of the best. After the death of Princess Diana, Queen Elizabeth II struggles with her reaction to a sequence of events nobody could have predicted.

Iconic Line: "Nowadays people want glamour and tears, the grand performance. I've never been good at that."
14. Atonement, 2007
What It's About: Atonement follows aspiring writer Briony Tallis, as a 13-year-old, irrevocably changes the course of several lives when she accuses her older sister's lover of a crime he did not commit.

Iconic Line: "Never trust a sailor on dry land"
15. The King's Speech, 2010
What It's About: Four-time Oscar winning film, The Kings Speech follows the story of King George IV, played by Colin Firth, and his impromptu ascension to the throne of the British Empire in 1936, and the speech therapist who helped the unsure monarch overcome his stammer.

Iconic Line: "Because I have a right to be heard. I have a voice!"
16. Spectre, 2015
What It's About: The 26th film in the 007 franchise, Spectre sees James Bond get a cryptic message from his past which sends him a trail to uncover the existence of a sinister organisation called Spectre.

Iconic Line: "You are a kite dancing in a hurricane, Mr Bond"
17. Phantom Thread, 2017
What It's About: Set in 1950s London, Reynolds Woodcock is a renowned dressmaker whose fastidious life is disrupted by a young, strong-willed woman, Alma, who becomes his muse and lover.

Iconic Line: "Are you a special agent sent here to ruin my evening and possibly my entire life?"
18. The Favourite, 2018
What It's About: Based in early 18th Century England, a frail Queen Anne occupies the throne and her close friend, Lady Sarah, governs the country in her stead. When a new servant called Abigail arrives, her charm endears her to Sarah.

Iconic Line: "Some wounds do not close. I have many such."
19. Little Women, 2019
What It's About: Last year's Oscar winning film, Little Women tells the story of the March sisters, four young women each determined to live life on their own terms.

Iconic Line: "Just because my dreams are different than yours, it doesn't mean they're unimportant"
20. Emma, 2020
What It's About: Based on the Jane Austen novel set in 1800s England, Emma is a well-meaning but selfish young woman who meddles in the love lives of her friends.

Iconic Line: "You must be the best judge of your own happiness."
动漫岛 - 十八禁啪漫动漫-成年AV动漫网站