Skip to content
Skip to navigation
Features
The Best Netflix Comedies We Need In Our Life Right Now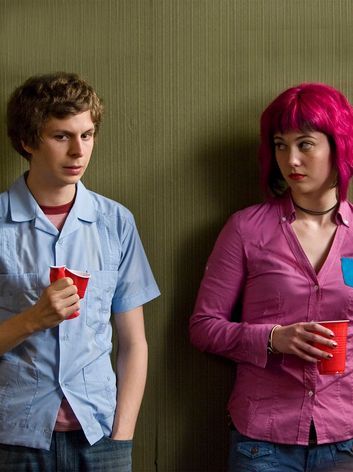 I think it's safe to say we're all in need of something that could make us laugh right about now. So if you're in the mood to watch some light-hearted comedy to bring a bit of cheer to your day, then you're in luck as we've done the hard work for you. We've scrolled through the best comedy films and series' Netflix has to offer, so all you need to do is sit back, relax and have a laugh.
1. The Other Guys
What it's about: Will Ferrell and Mark Wahlberg are comedy gold in The Other Guys. As New York cops suddenly thrust from desk work and donuts into white-collar crime after the death of their fellow officers, they have to learn how to play amongst the big leagues – and fast.

Iconic quote: "You have the right to remain silent but I want to hear you scream."
2. The Hustle
What it's about: Rebel Wilson and Anne Hathaway join forces in this sure-to-make-you-laugh comedy. Anne and Rebel play two con women - one low rent, the other high class - who team up together to take down the men who have wronged them.

Iconic Quote: "I'm sorry, I don't speak foreign."
3. A Typical
What it's about: If you're in the mood for a comedy series to get you through the days, then Atypical is the series for you. The series follows the life of Sam, an 18-year-old on the autistic spectrum with a profound love of Penguins. Sam decides to seek more independence, along with finding a girlfriend - which sets his whole family on a life-changing path.

Iconic Quote: "Whoever said practise makes perfect was an idiot. Humans can't be perfect because we're not machines. The best thing you can say about practice is that it makes…better."
4. Get Him To The Greek
What it's about: If you haven't seen Get Him To The Greek yet then where have you been… and if you have then it's totally acceptable to watch it again. Jonah Hill plays a record company intern who is hired to accompany an out-of-control British rock star play by Russell Brand to a concert at L.A's Greek Theatre.

Iconic Quote: "Stroke the furry wall."
5. Scott Pilgrim vs The World
What it's about: Dreamy delivery girl Ramona captures Scott Pilgrim's heart, but he must vanquish all seven of her evil exes in martial arts in order to win her heart.

Iconic Quote: "Because I'm in lesbians with you. I really, really mean it."
6. Dumplin'
What it's about: With all the music provided by Dolly Parton and Jennifer Anniston as one of the lead characters, what's not to love about this light-hearted comedy? To prove a point about measuring up and fitting in, Texas teen Willowdean Dickson enters a local pageant, which is run by her ex-beauty queen mum, who doubts her from the start.

Iconic Quote: "All my favourite things start off as bad ideas."
7. Step Brothers
What it's about: Step Brothers is the comedy film you can watch again and again and it will still make you laugh.

Brennan and Dale might be grown men, but that doesn't stop a childish sibling rivalry erupting after Brennan's mum marries Dale's dad.

Iconic Quote: "There's so much room for activities."
8. Turn Up Charlie
What it's about: If you're missing festivals and holidays this year, then you'll need to watch this comedy series. Idris Elba plays Charlie, a 10-seconds-of-fame DJ looking to rebuild his career. In order to do so he ends up working as a nanny for his famous best friend's wild 11-year-old daughter.

Iconic Quote: "Do you know how long on average it takes me to make a nanny quit?"
9. To All The Boys I've Loved Before
What it's about: If you're sat at home with your housemates and are in need of a girly night in watching a rom-com then this is the one for you. Lana Condor plays teen Lara Jean whose quiet high school life suddenly gets turned upside down after her secret love letters are somehow mailed to her five crushes.

Iconic Quote: "Wow, you really think that you're special, then you find out she wrote to two guys."
10. The Interview
What it's about: James Franco and Seth Rogan play a TV host and producer who score an interview with Kim Jong-un, a fan of their show. In a turn of events, the CIA then ask the pair to assassinate the dictator.

Iconic Quote: "Haters gonna hate…and ain'ters ginna ain't."
11. After Life
What it's about: You'll need a heads up before you start watching this series – it's sure to make you cry as much as it makes you laugh, but it's well worth the watch. Ricky Gervais plays Tony, a recent widow after losing his wife to cancer. In dealing with her death, he decides that everyone should feel his misery and chooses to live his life by doing and saying whatever he wants…

Iconic Quote: "The last thing you should do is drink alone."
12. The Wrong Missy
What it's about: An uplifiting comedy that's recently been added to Netflix. Tim is an unlucky-in-love businessman who thinks he's invited the woman of his dreams on a work retreat to Hawaii, realising too late that he's mistakenly texted someone from a blind date with the same name instead.

Iconic Quote: "I don't think I've ever seen anyone dive into the ocean and miss…"
13. Longshot
What it's about: There's never a time where a Seth Rogan comedy can't cheer you up. Seth plays Fred, an opinionated journalist who ends up reuniting with a childhood friend who is now a headstrong presidential candidate. Against all advice she hires Fred as her speechwriter and sees him challenge her political strategies… and heart.

Iconic Quote: "It's 'pretty woman', but she's Richard Gere and you're Julia Roberts."
14. The Invention of Lying
What it's about: A film that's sure to make you laugh and brighten up your day. In a world where nobody lies, Ricky Gervais plays a screenwriter who gains fame, fortune and possibly the girl of his dreams, all by saying that things aren't true.

Iconic Quote: "I look forward to never seeing you."
15. Glow
What it's about: A comedy series based in 1980s LA following a crew of misfits who reinvent themselves as the Gorgeous Ladies of Wrestling.

Iconic Quote: "Sometimes you have to trick yourself into having a good time. Just pretend you're having the best time in the world, and then maybe you will."
16. Wine Country
What it's about: A girly must-see comedy that sees a group of lifelong friends go on vacation to Napa Valley. The perfectly planned wine-soaked birthday getaway ends up getting messier by the minute.

Iconic Quote: "Whatever gets said, it's probably what the person has always felt. And the alcohol just let it out."
17. Derry Girls
What it's about: Sure to make you laugh, Derry Girls is a comedy series that follows four teenagers growing up in 1990s Northern Ireland. Watch them grapple with the universal problems of intrusive parents, Catholic school teachers and their quest to find (or not find) love.

Iconic Quote: "Watched this film last night. My Da got it off Pirate Pauline."
18. Daddy's Home 2
What it's about: It may have a few Christmas scenes in it, but that's not going to stop us rewatching this family fun comedy. Will Ferrell and Mark Wahlberg play co-parenting dads who, just as they think things are running smoothly, bump into a few hurdles during the holidays.

Iconic Quote: "Did somebody touch the thermostat?"
19. The Spy Who Dumped Me
What it's about: Mila Kunis plays Audrey who, after getting dumped, finds out that her ex is actually a spy. Fortunately for her, best friend Morgan has her back as they set off on a mission to save the world.

Iconic Quote: "Do you wanna die having never been to Europe? Or do you wanna go to Europe and then die having been to Europe?"
20. Bad Teacher
What it's about: Starring Cameron Diaz and Justin Timberlake, this film is sure to make you laugh and uplift your mood. Diaz plays a self-absorbed middle school teacher in pursuit of a new man after a break-up foils her plan to marry rich. She embarks on a scheme that leads to many unexpected lessons…

Iconic Quote: "You have no idea how difficult it is to compete against these Barbie-doll types."
Little Pick Me Up's We're Loving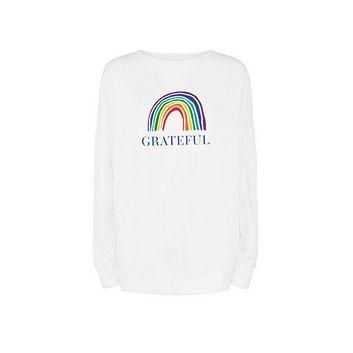 White Grateful Rainbow Slogan Charity Sweatshirt
£12.99
动漫岛 - 十八禁啪漫动漫-成年AV动漫网站