Skip to content
Skip to navigation
Features
The Ultimate Working From
Home Guide
by Emma Menteath, Editorial Lead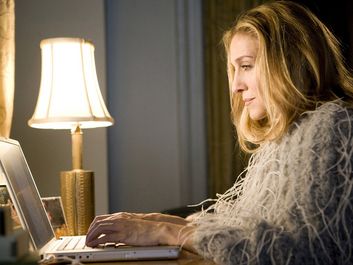 Over the last couple of days many of us have been asked to start working from home and where it may sound exciting at first – more sleep, no commuting and staying in our pjs all day - working from home isn't always easy. So, we've put together the ultimate guide to working from home, from setting yourself (and others) boundaries to making sure you stay connected. Here are our 12 top tips to get you set up for working from home.
1. Get Into A Routine
Having a routine at home is as important as the routine you follow when going to work - whether that means making yourself a cup of tea and then checking in with your manager or creating your daily to-do list, make sure you're doing them all at a set time to get you into a new daily routine.
2. Act As Though You Are
By acting like you actually are going into the office you set yourself up mentally for the day ahead. We suggest setting your alarm for the same time every morning and getting dressed. As exciting as it may sound to stay in your pyjamas all day, it actually affects your psychology when it comes to work. Having a shower and getting dressed sets you up for the workday ahead.
3. Make A To-Do List The Day Before
One of our favourite #WFH hacks is preparing your to-do list the evening before. Not only does it help tie up any loose ends you may have forgotten or not got around to completing that day, but it also helps you switch out of work mode so you can actually spend the evening relaxing.
4. Find A Dedicated Workspace
Just because you're working from home doesn't mean you can't have a working space set up. Avoid cooping yourself up on the couch. To get yourself into the right frame of mind for work, find a comfortable desk space in your home and make that your consistent space to work in.
5. Save Calls & Meetings For The Afternoon
There's no denying the fact that by 3pm most of us start to lose focus. The majority of us are more productive during the first few hours of our workday, so why not schedule your meetings and conference calls for after lunch, just as that lull starts to set in. This gives you a break from your work and a chance for little human interaction.
6. Avoid Social Media
Social media can halt your productivity levels quicker than you can say "Instagram". We've all experienced Instagram's black hole of scrolling. To avoid social media distractions while you're working, we suggest logging out of your accounts on your laptop and removing all social media networks from your toolbar. As for your phone, most of us still need them for communicating with our colleagues, but why not turn off all unnecessary notifications during working hours to ensure maximum productivity.
7. Use Technology To Stay Connected
Working from home can make you feel really isolated – especially if you live by yourself. So instead of sending countless emails back-and-forth, pick up the phone and have a conversation. Or use a group messaging app that lets you group call your colleagues.
8. Take Your 'Lunch Hour'
We cannot stress this enough. Taking a break resets your focus just as things begin to lull. When we work in an office, we often take cues from our colleagues to stand up and stretch, whether it happens to be making a cup of tea or running out to grab yourself lunch. Working from home shouldn't be monotonous, so set yourself an alarm every hour to get up and move about for 5 minutes. Even something as monotonous as putting a load of washing on or making yourself a cup of coffee can seem like a luxury when you're WFH.
9. Prep Your Lunch The Night Before
One thing that's easy to forget when working from home is your lunch. Prepping your lunch the night before will ensure you maximise your time during the day. No wasted time whipping up lunch – rather use your lunch break to catch up with your family or go for a long walk. It'll do wonders for your state of mind.
10. Set Boundaries
Working from home isn't always easy. Many of us live with flatmates, our parents or have kids that require our undivided attention. Setting boundaries is one of the most important things you can do for yourself (and your workload). Make it clear to everyone you live with what your working hours are and what kind of space you need in order to be productive.
11. Get Out (If You Can)
Just because you are working from home does not mean you need to stay cooped up all day – unless you're in isolation. Take advantage of your nearest park or open space and get out for a daily walk. A little movement and fresh air do wonders for your concentration levels.
12. Put Your Work Away At The End Of The Day
At the end of a working day, it's best to switch off your computer and put it away. Many people tend to overcompensate when working from home as they can't be seen. It's important to not go over the top and work extended hours – unless requested. Remember, we all need a little recovery time from work.