Skip to content
Skip to navigation
Features
Why We're Currently Obsessing Over Tiger King
By Adam Fletcher, Copywriter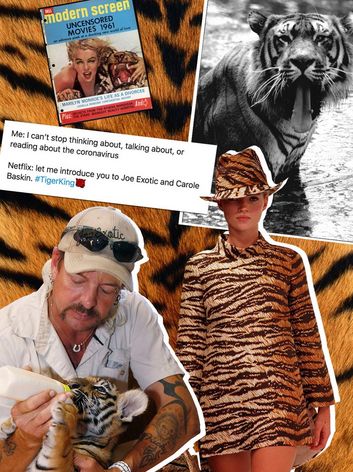 It might not surprise you that the longer we're staying in-in, the more Netflix shows we're beginning to binge-watch (and binge again). From 10-part shows to trending documentaries, must-see movies and mini-series, you've possibly never streamed this many things back-to-back in the space of three weeks. But, seeing as this is the best cure we have for cabin fevery feels, we don't blame you!

And, there's one series that's single-handedly managed to keep our boredom at bay for two whole days, and it's dominating every TikTok video and meme on the internet today: Tiger King. Because who doesn't love getting distracted by a mullet-wearing zookeeper at a time like this? As we're currently in a sort of confinement situ ourselves, it kinda makes 100% sense that Tiger King became so viral, so quickly. Fun fact: in the space of 48 hours, Tiger King grew to be the most-watched title in the UK, making it 2020's overnight sensation. So, it's pretty captivating stuff.

Plus, just like the other series we love on Netflix, Tiger King is nothing short of fashion 'moments'. Whether it's Carole Baskin's colourful kaftans and crowns or Joe Exotic's collection of cat prints and rock tees, there are so many looks that made us stop, pause, and take note. Just be warned, you'll probably want to add a tiger-print piece (or three) to your WFH wardrobe after seeing it.

With a bonus episode ready to stream on Netflix, we've rounded up everything we know about Tiger King so far...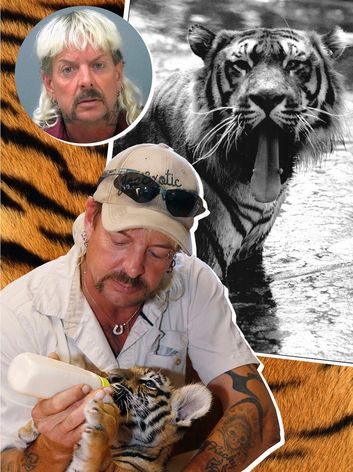 Hands up: are you one of the 34 million viewers who got sucked into the oddball world of Joe Exotic and Co when it first aired? Whether you need a quick reminder of why you started obsessing over it two weeks ago, or if you're just wondering what the fuss is all about (if so, where have you been?), you need to give this two-minute clip a try.
Up next: the prints… Joe Exotic and Carole Baskin have undoubtedly reminded us of our love for animal patterns. But, they've kind of always been a source of inspiration for our wardrobes, even as far back as the Ancient Egyptian period (a leopard-look texture was allegedly discovered in Tutankhamun's tomb). But, where does their appeal come from? The vibrant colours? The faux fluffy textures? Whatever the case, animal patterns have consistently been 'having a moment'. Let's take a look… In the '80s, it was reserved for punks, the rock 'n' rollers and some grunge subcultures (think early Debbie Harry, Madonna et al). In the '90s, however, it got a cool-girl makeover thanks to Kate and Naomi, and brands like Dolce & Gabbana. Today, it's evolved again. Yes, we still tend to wear it to make a fashion statement, but it can be enjoyed by anyone, regardless of their style tribe, right?
Moving on… Not only did the seven-part documentary make us reflect on our fascination with animal prints in fashion, but it also highlighted a global obsession with big cats and kittens in general. Baby tigers in catwalk shows, Doc Antle's animals in Britney Spears' 2001 VMA performance, cute Capuchin monkeys in Hollywood movies…basically, the appeal of exotic pets extends far beyond the realms of private zoos.
Okay, so you've viewed the official trailer and the fashion influences, are you ready to get your paws (sorry!) on the Tiger King memes? While most of us are WFH or just stuck inside scrolling, you might have already encountered some of the ones swirling around online today. Our favourite so far? It would have to be the Zoolander-inspired meme. It's fun and full of fierce looks, plus, the caption is worthy of a laugh every time you see it. We say: send it during a lunchtime Zoom chat (with your bestie, obvs).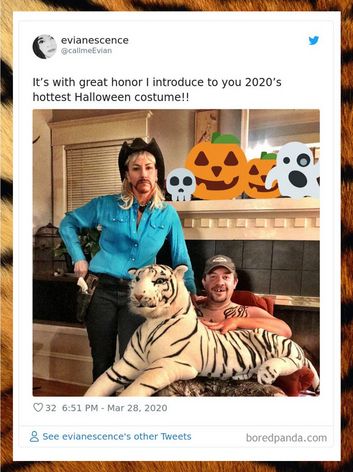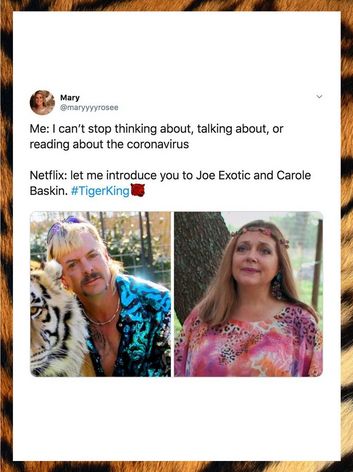 From memes to #Tigerking Tik Tok videos, Joe Exotic and Carole Baskin are the gifts that keep on giving while we're all in lockdown mode. And, right now, there's a Tik Tok video to suit every occasion and mood. Expect Tiger King-themed family dinners, viral dance routines to try at home, and songs that you and your friends can sing along to, too. It might just be the perfect excuse you have to put your lip-syncing skills to the test…
Has Joe Exotic made you wonder, 'How are celebrities wearing tiger-print fashion?' Because, same. And, if you've been contemplating whether you should channel Big Cat Energy for 2020, just like your favourite A-listers, now's the time. But first, however, let's look back to the early Noughties and see how celebrities used to wear it. Three words: make it mini. Indeed, our favourite tiger-print dresses in the 00s came in above-the-knee cuts, sheer fabrics, and with corset-front details (for inspo, look to Victoria Beckham and Paris Hilton). Fast forward to now, though, and you'll see that tiger prints have moved upwards and on to statement blazers and lightweight shackets. Check out Lizzo and Gaga, for instance, who use a tiger-print piece as the stand-out layer for their look. But, the print hasn't shifted too far from its red-carpet roots, though (hiya Nicki Minaj).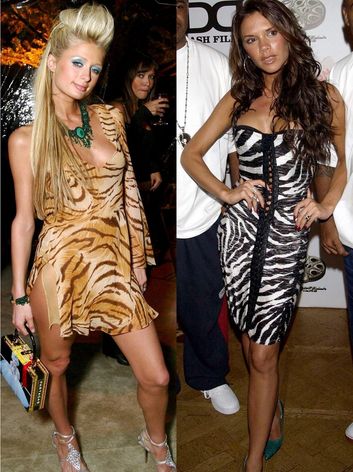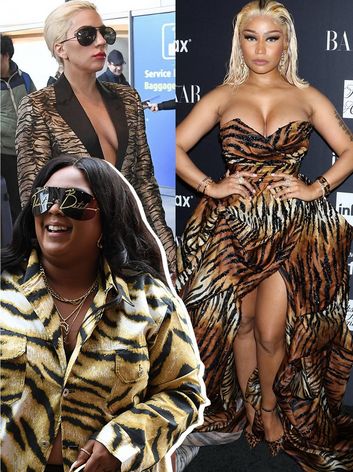 Lastly, Tiger King is the show that keeps its audience wanting (even) more. Ending on a cliffhanger (or three), the series left us all speculating about what happened to the show's cast members. Like: is this the last we'll ever hear of Joe Exotic? Where's Carole Baskin (and her set of caretakers) now? Are the rumours true about John Finlay's new look? While we might not be able to provide the resolutions you need, the brand-new episode of Tiger King is set to do just that (we hope).
动漫岛 - 十八禁啪漫动漫-成年AV动漫网站