Skip to content
Skip to navigation
New Arrivals
How to Plan the Ultimate Sleepover Party for Teens
by Emma Menteath, Editorial Lead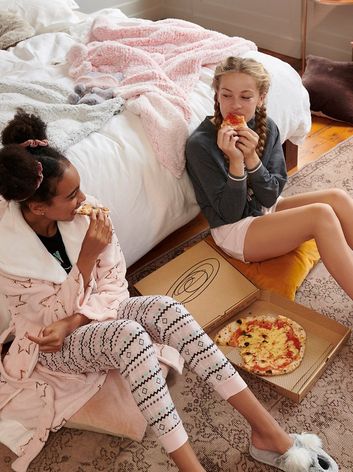 What teen doesn't love a sleepover? A great way to spend quality time with friends, watch the latest movies, share fashion tips, gossip and make fun memories.

So for all the Mums and Dads, here are some handy tips for throwing the ultimate sleepover party for your teen (that won't embarrass them).
1. Invitations
Be sure to include practical information on the invite, like what guests need to bring along to your teen's sleepover party, such as a pillow, sleeping bag, or even snacks to help contribute to the food. This is a great way to even out the expenses. TIP: You can even ask parents to respond on their RSVP if their child has any allergies or medical conditions in order to be prepared.
2. The Sleepover Space
One of the best areas to hold a sleepover is in the family living room as it's usually big enough to accommodate a handful of guests. We suggest piling up all the spare mattresses and bedding in to the living room to make one giant bed, this will allow the guests to snuggle up and watch movies 'til their hearts' content (remember: nobody actually sleeps at a sleepover anyway, so don't even try to get them to go to sleep on time!)
3. Fun & Games
Depending on what your teen and her friends are into, there are countless activities to keep them entertained all night long. From back to back teen films, spa activities like facemasks and nail painting, to arts & crafts. TIP: You could provide mini goodie bags with facemasks and matching hairclips to hand out to your guests when they arrive.
4. Food & Drink
Pizza and popcorn are essential sleepover foods. Try some microwave popcorn for a true movie feel – it's cost effective and easy. For drinks why not offer homemade milkshakes or smoothies? Fresh fruit and croissants go down well in the morning.
5. Dress Code
Last but not least, we suggest oversized jumpers, comfy pyjama sets, fluffy dressing gowns and hot water bottles for the ultimate, cosy teens sleepover party. TIP: Opt for matching sleepover outfits for maximum photo opportunities.