Skip to content
Skip to navigation
New Arrivals
The Trainers We Can't Stop Wearing While Working From Home
By Adam Fletcher, Copywriter
What to wear while working from home? Truth is, we don't have just one answer. A majority of our wardrobe choices are made on a kind of trial and error-based approach (who knew that joggers, a corset top, and trainers could look this good together, until now), so the number of options we have for staying in-in are seemingly…endless.

But, if you're anything like us, most of your at-home go-tos will need to follow some sort of criteria. Comfy? Tick. Cute? Tick. Easy to wear. Tick. Enter the trainer. Admittedly, they might not be #1 on your WFH wish list (thanks to 24/7 Zoom calls, we've been heavily focused on top-half dressing), but there are so many reasons why trainers need to be moved to at least second place on your saved items. Here's why…

Well, for one, keeping a new pair of trainers on around the house might inspire you to join that 1 pm virtual fitness class. Secondly, they go perfectly with joggers, jeans, and just about any WFH outfit. Finally, lockdown won't last forever - so you'll need some fresh kicks to debut post-isolation. Whether it's trainers with metallic details or trending chunky soles, here's our round up the pairs we can't stop wearing while we're WFH. Plus, as it's Earth Day this week, we've added in some styles (from our Kind range) that are more responsible and friendlier to the planet.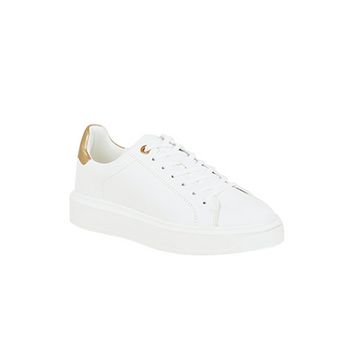 1. White Leather-Look Metallic Panel Chunky Trainers - £19.99
Make them big, bold, and gold detailed. If you were wondering how you to elevate your WFH 'fits, here's your answer: chunky trainers. We're looking to styles with raised soles, lace-up details and metallic panels to: (a) dress down summer-y dresses, and (b) make a pair of joggers look and feel more 'fashion'.
shop now
2. Navy Canvas Stripe Sole Trainers - £9.99
WFH rule #1: look and feel comfortable. Right now, we're all about trying to find fashion that we can throw on and go, and wear from morning-sofa-meetings-to-sundown. Welcome the canvas stripe trainer. Plus, if you keep them on inside, they might just encourage that much-needed lunchtime walk. Win.
shop now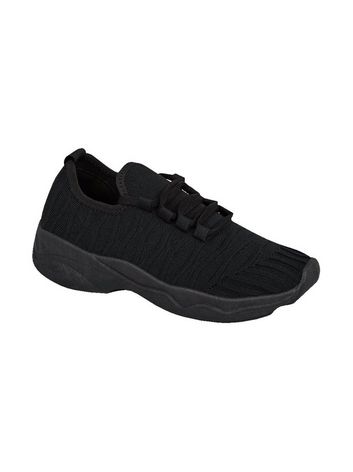 3. Black Knit Lace-Up Chunky Trainers - £19.99
You'll be wanting trainers like these for Hiit video workouts, local strolls, and all of your activewear. So, you really couldn't have picked a better time to add a pair of chunky lace-up trainers to your WFH rotation than right now. P.S. Their knitted texture and foot-hugging design make them ideal for any all-black looks, too.
shop now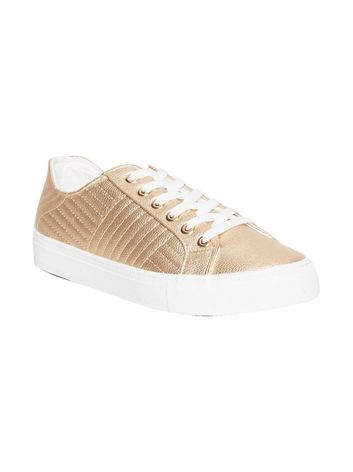 4. Rose Gold Quilted Lace Up Trainers - £19.99
Work, eat, take pictures, repeat. If that's starting to sound like your typical WFH pattern, then these rose gold lace-up trainers might just be your perfect match: thanks to their metallic colourway and quilted texture, you'll probably want to include them in every #WFH selfie.
shop now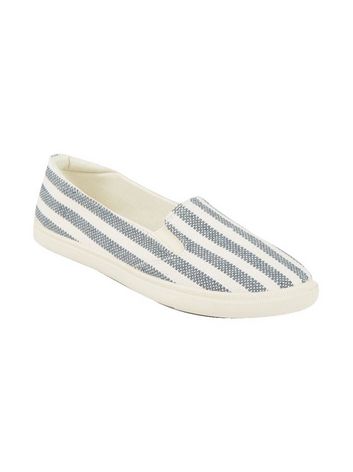 5. Blue Stripe Woven Slip On Trainers - £7.99
Goodbye blazers, hello sweatshirts. Slippers are probably another item of clothing that have become part of your work uniform. Well, when it's time to give them a much-needed break, may we suggest slipping into a pair of canvas trainers? Featuring a blue-and-white stripe pattern, they're just what you need for comfy WFH feels.
shop now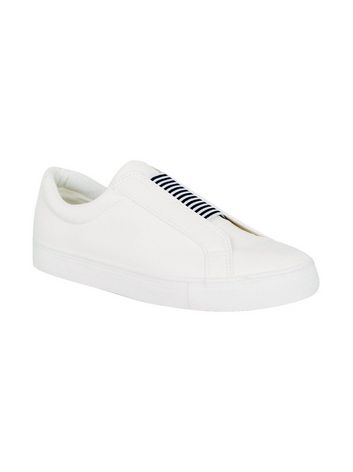 6. White Stripe Strap Slip-On Trainers - £19.99
Putting a summer-y vibe on your WFH look, these slip-on trainers help you dress for the warm weather you want while you're working from inside. After all, nothing says 'sunny days ahead' quite like wearing white-based trainers and nautical-inspired stripe around your bedroom, right?
shop now
7. Black Canvas Leopard Print Lace Up Trainers - £9.99
The leopard-print trainer. The ideal thing to wear as you watch back-to-back episodes of Tiger King (after work hours, obviously…). These lace-up trainers are a subtle way to channel Joe Exotic and Carol Baskin's style, and their love for big cat patterns, while you WFH.
shop now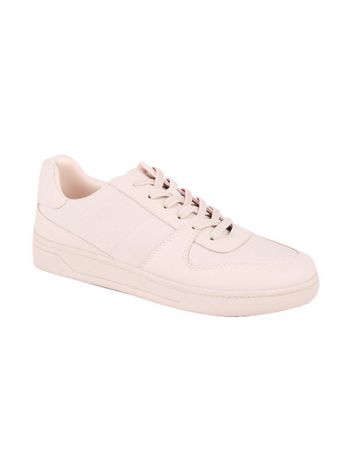 8. Pink Leather-Look and Canvas Trainers - £19.99
For those WFH days when black trainers just won't do, turn your attention to a colourway that's a little lighter and brighter: pastel pink. Extra style points for trainers with leather-look textures, panels and canvas-front details.
shop now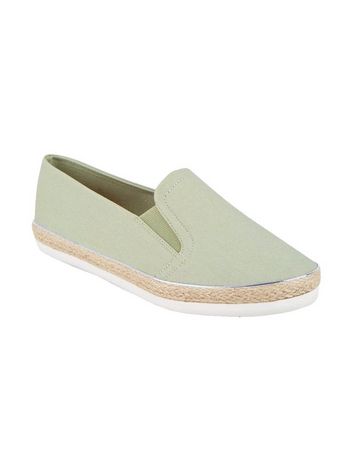 9. Wide Fit Mint Green Canvas Slip On Espadrilles - £12.99
If you want to feel even more comfortable while you WFH, and look like you haven't been going from sofa-to-bed since 9 am (even if you totally have), then it might be time to add these mint green espadrilles to a floral-print dress or jeans.
shop now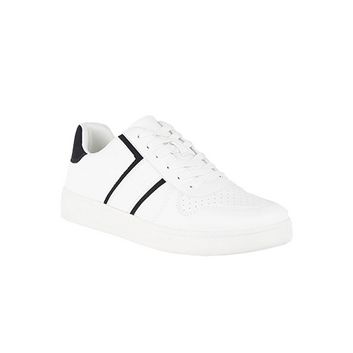 10. White Leather-Look Side Stripe Trainers - £19.99
Yes to white trainers with a subtle difference. Stripe details are a super-easy way to switch up your go-to WFH shoes, plus, you might just want to wear them on your next supermarket trip, too.
shop now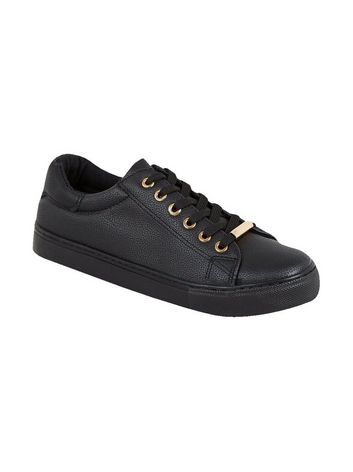 11. Black Leather-Look Metal Trim Trainers - £19.99
Looking for a pair of trainers that go with 99% of the things in your WFH wardrobe? Featuring a black leather-look upper, gold details and a classic rounded toe (talk about having the perfect ingredients), we'll be wearing these trainers beyond lockdown, too. Fact.
shop now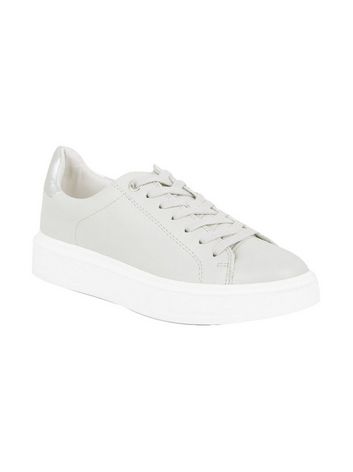 12. Grey Leather-Look Metallic Panel Chunky Trainers - £19.99
Joggers, trackies, comfies. Most of our WFH wardrobes are currently obsessed with the colour (you guessed it) grey. We say: keep your entire look tonal and opt for a pair of grey leather-look trainers for your next commute into work – even if it only involves going from your bedroom to your front room.
shop now