Skip to content
Skip to navigation
Ways to Wear
3 Ways To Wear The White Trainer
by Chloe Wilshere, Content Creator
The white trainer is now an essential in any wardrobe. Trainers have come a long way, particularly over recent years thanks to the influx of celebrities and influencers opting for the comfort of the trainer over platform heels.

High tops, platforms and chunky trainers have been key players over recent years, but this year sees the simplistic white sports trainer win its place back in the forefront of your wardrobe. Thanks to the likes of Kate Middleton, Alexa Chung and even Victoria Beckham sporting the simple trainer that was originally introduced as the sports shoe, this year it will become your wardrobe staple. And we've rounded up 3 different ways to wear them.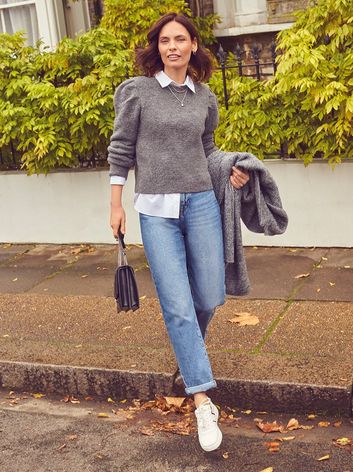 1. With Straight Leg Jeans
When your days are busy and long, you want to throw on a stylish, easy-to-put-together outfit that doesn't compromise on comfort. So on days like this, you can't wrong with pairing white trainers with a pair of straight leg jeans, a poplin shirt and a puff sleeve jumper layered over the top. It's an easy, well-put together outfit that ensures you'll be comfortable all day.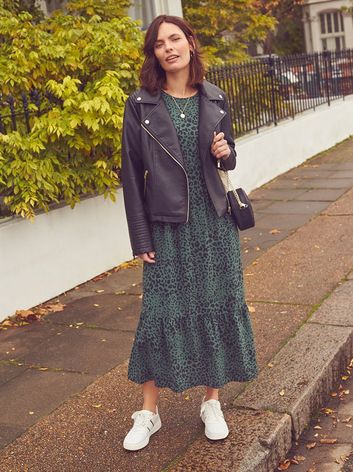 2. With A Midi Dress
Never have we ever been so thankful for the rise of the trainer and the fact that it's now stylish to pair your dress with trainers. If you told us this 10 years ago we'd have never believed you. But thanks to our favourite fashion icons sporting dress and trainer combinations, it's now a go-to look and we've never been so thankful. This season we love all things romantic and tiered. So opt for a tiered romantic midi dress, which adds extra volume to your outfit, and throw a biker jacket over the top for the cool-girl outfit you've been looking for.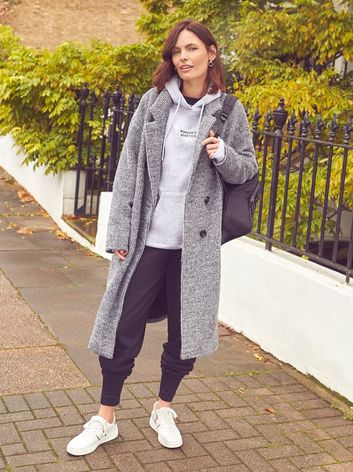 3. Off-Duty
Thanks to the rise of supermodels like Gigi Hadid, Kendall Jenner and Hailey Bieber, wearing your sportswear out and about it is now big news. It's now acceptable to wear your sportswear outside of the gym, with no sweating required.

To achieve the off-duty style, layer up an oversized sweat and joggers, long line coat and throw on a backpack. The perfect outfit for busy days on the go.