Skip to content
Skip to navigation
Who's Wearing What
How The Kardashians Style Bodycon Dresses
by Adam Fletcher, Copywriter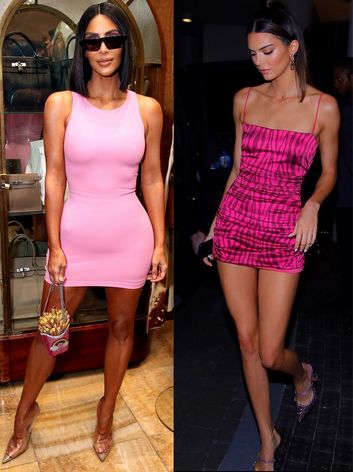 This probably isn't a question that you thought we'd be asking you today but, here it goes: what word starts with the letter 'K', contains 4 syllables, has the power to single-handedly break the internet, and divides public opinion every time you say it? Yup, you guessed it: Kar-dash-i-an.

For many of us millennials out there, we would probably struggle to remember what the pre-K days were like. What we mean is that, is it even possible to recount a time before they appeared on (almost) everything? Us neither. Whether it's TV screens, Insta-feeds, catwalks, covers of magazines, clothing lines, mobile games, beauty kits, emoji keyboards, tooth whitening campaigns, or diet-approved lollipop adverts (yeah, they did that, too), evidence of the Kardashian empire can be spotted nearly everywhere around us. And, as a society, we've become used to looking at them pretty much 365 days of the year: if you were to turn on E!, we'd bet that KUWTK would be streaming this very second. Let's be honest, they've worked their way into our day-to-day lives just as easily as selfies, Sutro-effect filters, and scrolling, for example.

But, one of the unbelievable realities of the Kardashians is that they've never exactly stopped having the spotlight on them. They've been continuously gaining more and more momentum ever since their infamous show burst onto our TVs in 2007. Even if you don't keep up with their every move, there are things that you might subconsciously know about them – specifics that you possibly don't even remember about the nearest and dearest in your life. The duration of Kim's first marriage, Kylie's favourite place to eat, Khloe's nickname - there's no doubt, readers, that you can answer all/ at least one of these questions without really thinking much about it.

However, for the most part, when it comes to the Kardashians, they're much like marmite: you simply love them or you don't (you do you, boo). They'll either entertain you for hours – it's hard to not be completely immersed in their dreamy Californian lives – or, you'll gently tap 'see less like this' every time a picture of theirs pops up. True story. But, whatever your opinion might be, there's no denying that the Kardashians have become fixtures in the fashion world, and their power to influence our shopping choices is unreal. Basically, if one of the Dash Dolls is spotted wearing it, you know that it will sell out faster than you say 'chartreuse' five times. Data from Mintel supports this too: 64% of shoppers admit that social media influences the clothing they buy. This figure is, no doubt, heavily impacted by the #Kardahian-Jenner powerhouse.

But, if we had to choose one particular trend that they've made even more famous, it would have to be the bodycon dress, a.k.a. the one piece in your wardrobe that is designed to trace your silhouette and flatter your figure, whatever your shape. A simple online search for the phrase 'Kardashian bodycon dress', for instance, provides a staggering 6,220,000 results in 0.58 seconds (no biggie). Although, to understand their love for bodycon dresses, it's worth knowing when the Calabasas queens first started wearing them 24/7. Cast your mind back two years ago to 2018, when Kylie uploaded an image of herself in a bodycon mini dress. Instagram and Twitter users across the globe stopped, shared and 'liked' 4.6m times. Thereafter, it feels as though they've been seen in a multitude of body-contouring creations around the clock. Whether it's Kendall in a satin zebra-print style or Kourtney in a long sleeve version, here's how the Kardashian-Jenners are wearing bodycon dresses now.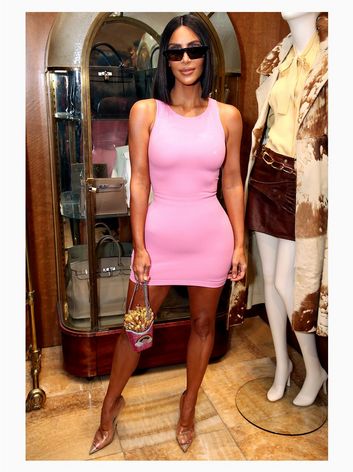 1. Kim Kardashian
We all remember S/S'18 as the season when Kim served us a series of ultra-bright looks. Here, she's opted for an ultra-tight bodycon dress to *highlight* her silhouette (sorry, we had to). Then, to complete this high-glam look, perspex heels.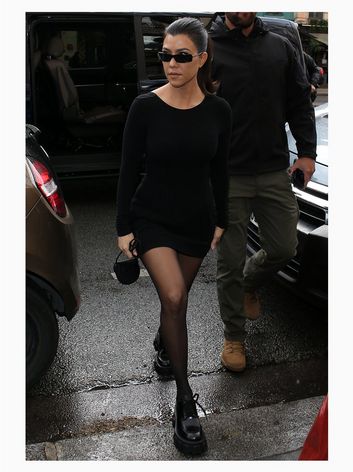 2. Kourtney Kardashian
If you were ever looking for proof that all-black looks aren't boring, here it is. With micro sunglasses, sheer tights, and chunky boots, Kourtney Kardashian gives this long sleeve bodycon dress an unexpected finish. We love.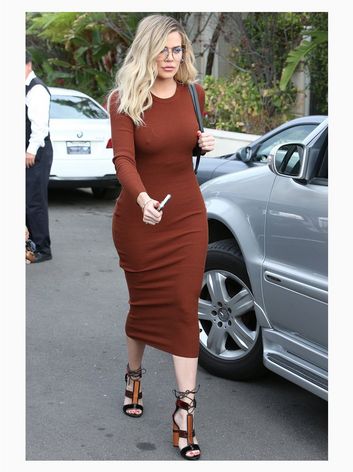 3. Khloe Kardashian
Rust is a must, especially when it comes to midi-length bodycon dresses. Well, it's not the only option, but the colour makes it wearable in any season. On this occasion, Khloe keeps it dressed up with strappy heels.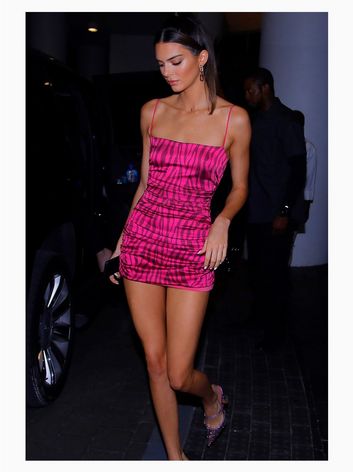 4. Kendall Jenner
We have always loved Kendall's style choices. She is, after all, the supermodel of the family. But, we're particularly obsessed with how she's partnered her zebra-print bodycon with strappy heels for a nod to the '90s.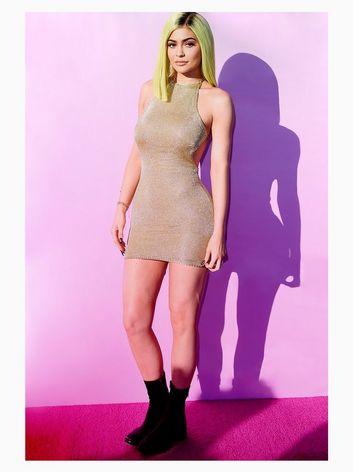 5. Kylie Jenner
Clearly, she got the 'make it bright' memo from her older sister. So, how do you make a coloured, mini-length bodycon work for you? Well, get inspired by Kylie and try dressing it down with a heeled boot or trainers.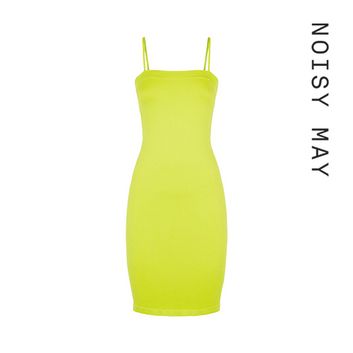 Noisy May Yellow Neon Stretch Bodycon Mini Dress
£18.00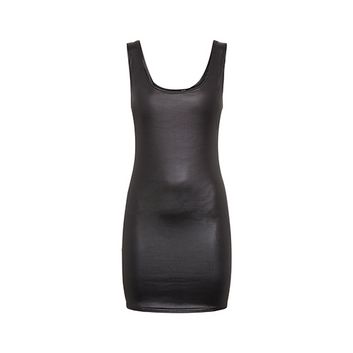 Parisian Black Scoop Neck Bodycon Dress
£5.00£12.00