Skip to content
Skip to navigation
Who's Wearing What
14 Ways To Wear A Denim Jacket
by Adam Fletcher, Copywriter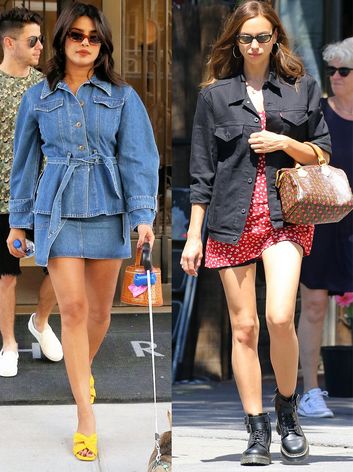 S.P.R.I.N.G. It's safe to say that it's officially the season of new beginnings – something that the fashion world is taking fairly literally… Never will you see so many of us coupling up to fresh floral prints - they're budding and blooming on almost all of our favourite new pieces. That bodycon dress: you can find it with flower patterns. That boilersuit: you can find it with flower patterns. That mini skirt... You get where we're going with this.

But, flower prints aside, March is also the time of year when we get that all-too-familiar-feeling to buy something. Something new. Why? Well, the SS20 trends have started to pour in by the bucket-load. Tbh, it really is the perfect time to reinvent your wardrobe and adopt an entirely new look. However, this year, our outlook seems to be somewhat different. In an attempt to save clothing from ending up in landfill, many of us are having a major rethink: we seem to be moving towards a more conscious state of mind when it comes to our shopping habits. Yes, we still want to buy the latest fashion updates, but we want more from our clothes, too.

Hands up if you've asked yourself the following questions when deciding on what new pieces to purchase, 'Are they going to stay relevant for the months to come?' and 'Will I be able to integrate them into my wardrobe year after year?' Yup, same here. But, don't just take our word for it. In the UK alone, reports show that 71% of women are opting to shop and live in more ethically-approved ways. So, what's the solution? *Drum roll*, please. Let us present possibly the most timeless and versatile piece we know: the denim jacket. Whether it's wintery, warm, rainy or completely roasting outside (some versions feature thinner cotton), it's the layer that you can always count on whatever the weather, whatever your look. For proof, check out these mind-blowing figures… Our love for denim is so real that, according to recent fashion surveys, approximately three quarters of adults confess to wearing denim pieces regularly – the global average is 3.5 days per week.

Yet, despite this popularity, there is still some confusion around denim jackets - especially when it comes to deciding what to wear with them. Could it be that, like most things in today's world, we're just seriously spoilt for choice? A simple online search for denim jackets brings up 962,000,000 results in 0.61 seconds flat. Impressive. But, where do you even start? Then, there are all the different cuts and washes to consider, too. Do you opt for a mid-wash version in a classic finish? Something in coloured denim with a fitted shape, perhaps? How about an 80s-inspired style that has a roomy silhouette? Yes, there really is an option out there for everyone.

But, fear not. This time around, you can rely on us to get your denim jacket outfits sorted: we've called upon our favourite celebrities for some sound styling advice. Whether it's Hailey Bieber in denim-on-denim (it's no longer a fashion faux pas) or Lottie Moss in non-blue denim (what a bright idea!), here are fourteen denim jacket outfits you can totally try now.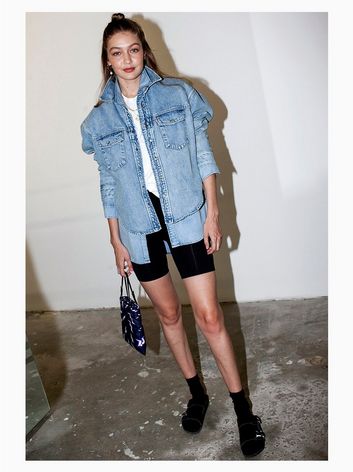 1. Gigi Hadid
It might be oversized, but Gigi Hadid's denim jacket is lightweight enough to be worn with (you guessed it) more denim underneath it. The Gigi way to wear it? With a popped collar.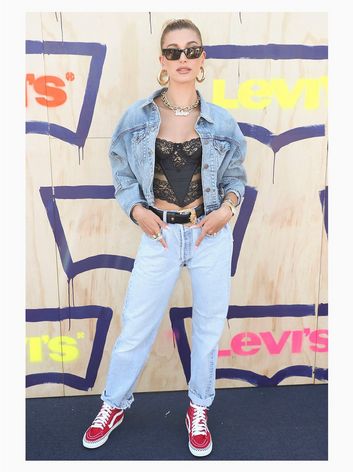 2. Hailey Bieber
With a lace corset, mom jeans, sunglasses and a denim jacket, Hailey Bieber's look has dreaming of dancing in festival fields all over again (can you blames us?).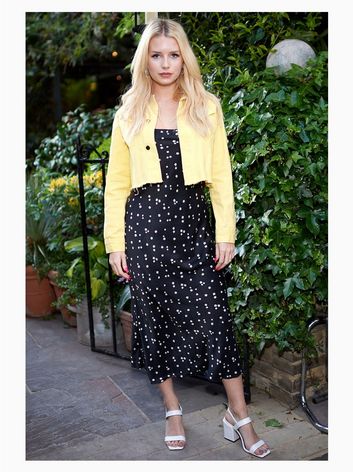 3. Lottie Moss
Back for new season, in a sunny shade of yellow, a raw hem and cropped fit, this is one of SS20's favourite denim jackets. Wear it like Lottie Moss and wear yours with a midi dress.
4. Priyanka Chopra
It's true, we've seen plenty of double denim looks, but not with a Priyanka Chopra edge. Expect a denim shacket, colour-pop heels, a micro bag and a cute puppy, naturally.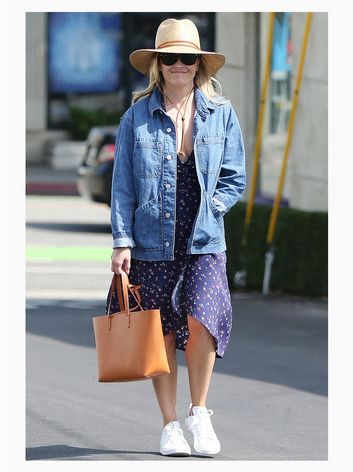 5. Reese Witherspoon
Do you think that Reese Witherspoon's look has a hint of holiday season about it? It could be all the straw accessories, or it could be her warm-weather cover-up (the denim jacket).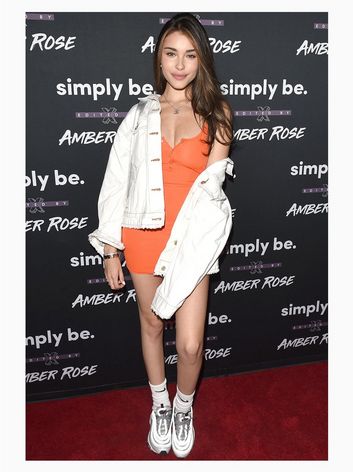 6. Madison Beer
Madison Beer's outfit is proof that denim doesn't need to come in a shade of blue for it to be a on our 2020 wish lists. Be brave and add a blast of bright colour underneath.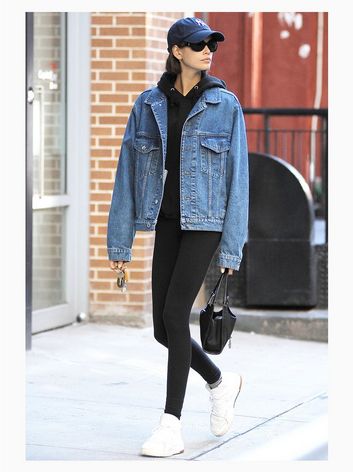 7. Kaia Gerber
Kaia Gerber never falls short of standout fashion looks. Here, she strikes again: her oversized denim jacket stands out against her all-black outfit and dark accessories.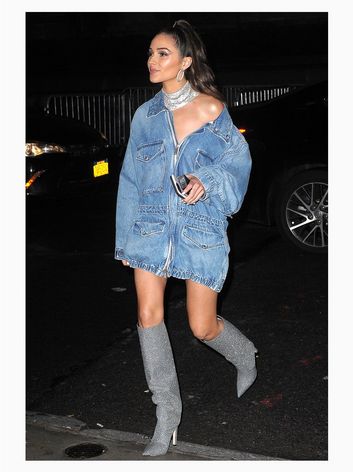 8. Olivia Culpo
Yes, you can wear a denim jacket as a shirt - you just have to find one with oversized fit, cuffed edges and (lots of) pockets - like the one spotted on Olivia Culpo.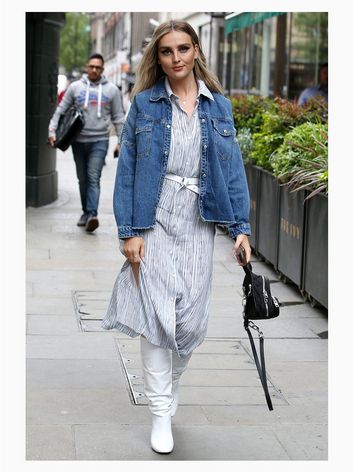 9. Perrie Edwards
Thanks to its lightweight design, pearl snap buttons and chest pockets, Perrie Edwards' denim jacket can be worn on its own. To give it extra mileage, wear it with a midi and boots during spring.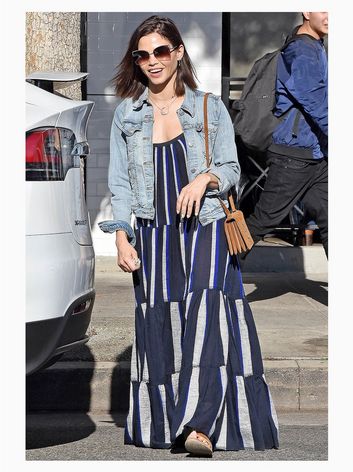 10. Jenna Dewan
When it comes to weekends and casual moments, it's all about minimising the amount of time it takes to get ready. Here, Jenna Dewan opts for a pared-back look with a maxi dress and denim jacket. We love.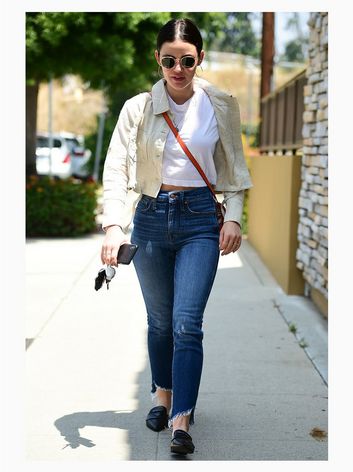 11. Lucy Hale
Why wear one shade of denim when you could wear two? Get inspired by Lucy Hale and wear a white denim jacket with mid-wash jeans on the bottom.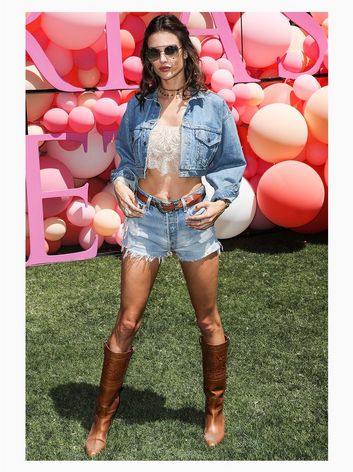 12. Alessandra Ambrosio
Come sunshine, come fashion's new festival looks. For easy-breezy layers, this year, we're partner a denim jackets with denim shorts, a lace top and western boots.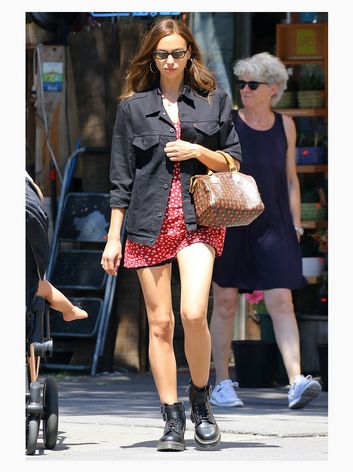 13. Irina Shayk
A black denim jacket is the ideal top layer for when the weather's not warm (yet). Take the lead from Irina Shayk and style yours with a floral-print midi and buckled biker boots.
14. Romee Strijd
Thanks to model Romee Strijd, all-white pieces never looked…so right. Ever. Think cropped denim jacket, shorts, strappy heels and a teeny tote bag, all in icy-white shades.
Pick Your Favourite
Black Puff Shoulder Crop Denim Jacket
£27.99