Skip to content
Skip to navigation
Who's Wearing What
17 Easy Outfit Ideas When You Are Tired of Wearing Sweats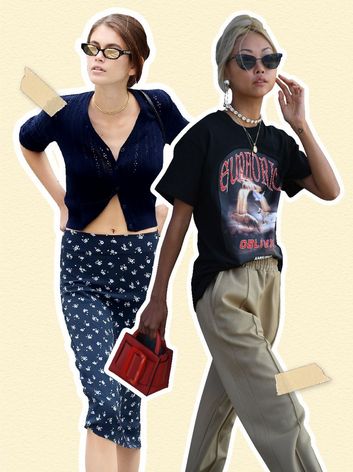 Question: is your wardrobe running a little low on inspo? SAME - and who can blame us. Since we're all finding ourselves stuck inside for probably a trillion more days, the novelty of staying at home in comfy combos is wearing off a little bit, right? Yup, as much as we love our dreamy jogger-and-sweatshirt uniform, we've kind of been wearing it over and over (+ over) again since mid-March.

The solution? Level up your lockdown looks, make your entire style feel fresh and new again, debut something that will make a statement on Zoom (even if you're not sharing your screen): start channelling early summer looks. Plus, the best part is, this year's styles are just as easy to wear as trakkie bottoms and jumpers, so you'll probably want to have them on 24 hours a day (and perhaps for a few days straight, too).

Where to start: well, we're looking to Gigi Hadid, Hailey Bieber, and Kendall Jenner to show us how to dress with a different vibe during lockdown and, of course, they don't disappoint. Not one bit. Whether you're into festival-worthy outfits or something that looks a little more standout and sleek (like head-to-toe black), there's a style below that's perfect for every single wardrobe. You're welcome.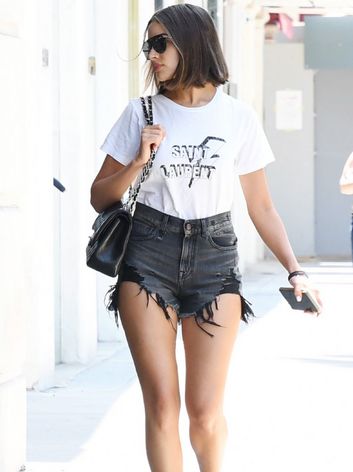 1. Olivia Culpo in a Logo Tee & Denim Shorts
Every spring/summertime look needs denim shorts. Lots of them. Opt for a pair that have a high-waist cut, side-spit deets, and raw hems. To finish? Think Olivia Culpo in a logo tee and you're heading in the right direction.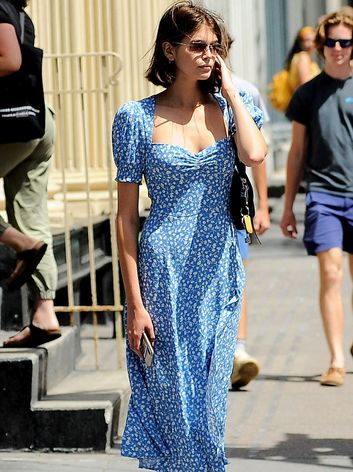 2. Kaia Gerber in a Floral Midi Dress & Trainers
A midi dress with a sweetheart neckline, puffy shoulders and a ditsy print is a must-have for all our wardrobes. The way Kaia styles hers is simple and relaxed (which we love): a cute side bag, Carrie Bradshaw-looking rectangular sunglasses, and a pair of trainers.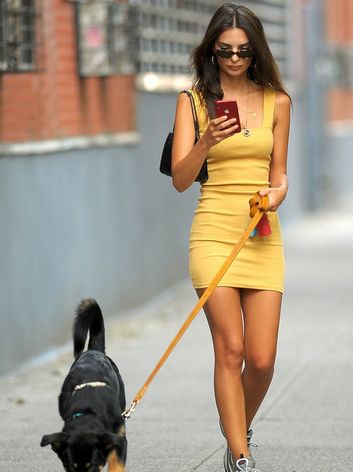 3.Emily Ratajkowski in a Mini Dress & Trainers
Whether you're taking your dog for a walk or taking tons fire selfies, we recommend dressing up in a bodycon mini in a sunshine shade of yellow. Don't forget - add lace-up trainers and layers of pendant necklaces.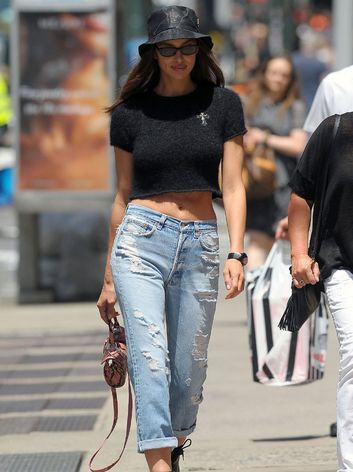 4. Irina Shayk in Jeans and a Boxy tee
April, a.k.a. pyjama month, made us forget about the power of a good pair of jeans. Right now, why not try some with a lighter wash and distressed details? The Irina Shayk way to wear denim: with a textured top, biker boots and a bucket hat.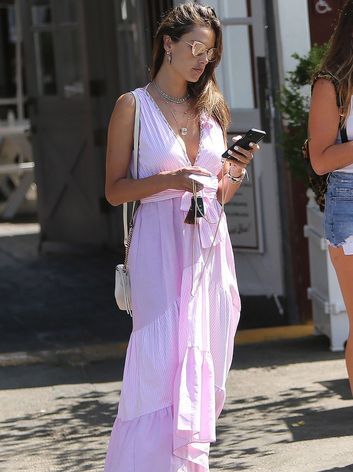 5. Alessandro Ambrosio in a Maxi Dress & Sandals
Introducing the style that's saving us from living in sweatpants: the flowy maxi dress. With a pink-and-white print, tie-front detail and tiers for days, it's the perfect option for garden BBQs, lunchtime strolls and more. Keep your look 100% comfy and pair with sandals.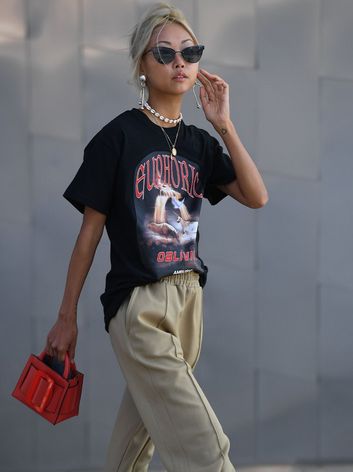 6. Vanessa Hong in a Logo Tee & Loose Fitting Trousers
Don't listen to what anyone says, there's no such thing as "too much." Vanessa Hong is proof that an oversized rock tee, loose-fitting trousers, shell accessories and a bright bag can totally work together. You do you.
7. Gigi Hadid in a Logo Tee & Bermuda Denim Shorts
Other shorts?' Well, they're cut just above the knee and have a baggier fit. Make like Gigi and style yours with a slogan tee and layers of necklaces.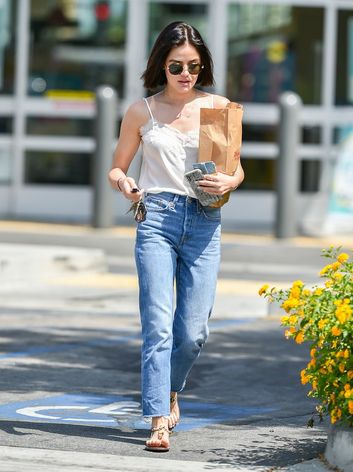 8. Lucy Hale in a Lace Cami & Jeans
Lucy Hale makes Monday-Friday essentials feel more exciting. Say goodbye to joggers (for now) and find yourself a lace-trim cami top, super-comfy jeans, and sandals that are ready for an unexpected pop to the shops.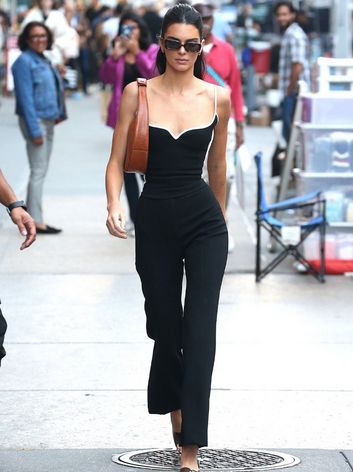 9. Kendall Jenner in a Jumpsuit & Sandals
Kendall Jenner's advice on refreshing your lockdown look? Get dressed in a style that'll make you want to enable your Teams camera, or instantly go for a walk around the block: a flared jumpsuit. Pssst. They're also perfect for nights out (when it's time).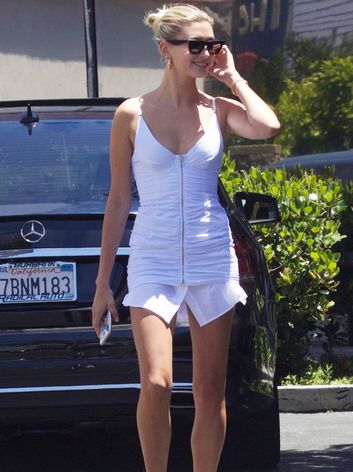 10. Hailey Bieber in a White Mini Dress & Trainers
The first days of summer are (almost) here, along with the sudden urge to wear icy and cool shades. Yep, from a zip-front mini dress, cute ankle socks and lace-up trainers, fashion's currently thinking blank. Wear all white.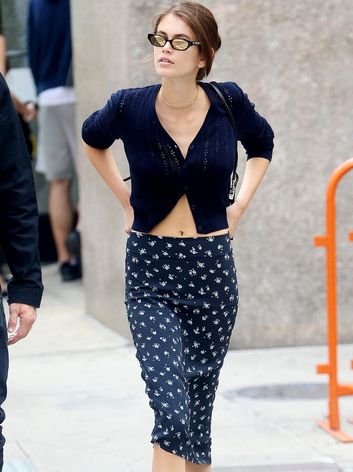 11. Kaia Gerber in a Cardigan & Midi Skirt
If your mood uninspired? Do you have a whole WFH day to complete? We hear you. The trick is to try a smart-casual look with a difference, like this cardigan-and-midi-skirt combo. Tip: you don't have to wear your cardi buttoned to the top just to stay on the sofa.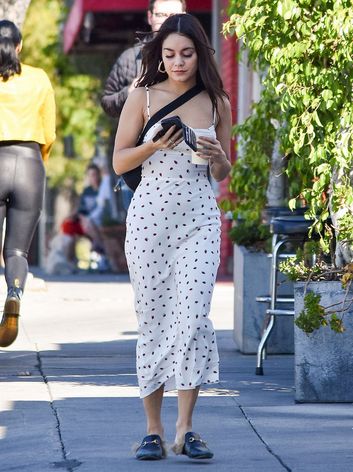 12. Vanessa Hudgens in a Printed Midi Dress & Mules
Look carefully: tiny strawberries are making their way up to the top of Vanessa Hudgens' dress. It's not essential to pick a fruit print, but we love making our midi dress pop in a virtual meeting call with a new print. For a super-fun touch, slip into fluffy mules.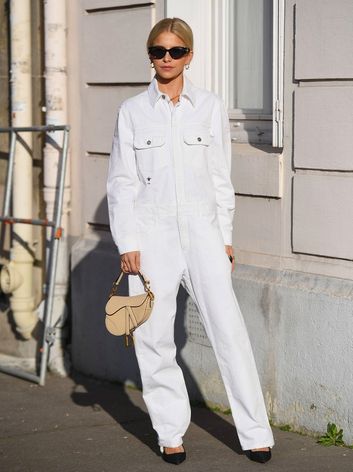 13. Caroline Daur in a Denim Jumpsuit & Flats
Okay, so it's sizzling hot for a day, drizzling the next, and then clouds are being forecasted. What's a gal to do? Well, you could try a long sleeve denim jumpsuit. We recommend going low-key on your feet by wearing flats.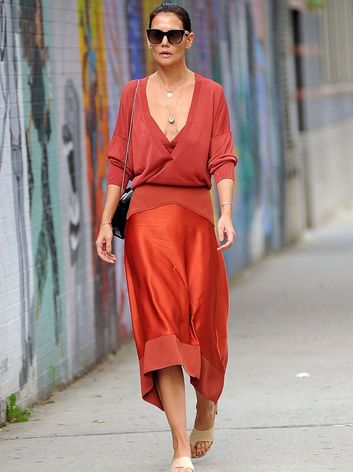 14. Katie Holmes in a Knit Jumper & Midi Skirt
How to refresh your routine wardrobe the Katie Holmes way? Add burnt orange shades, slip into satin textures and try loose-fitting outfits. Plus, don't forget to switch your slippers for sandals with an open-toe design.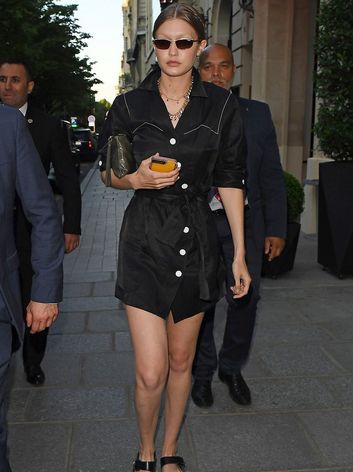 15. Gigi Hadid in a Mini Dress & Sliders
If you're the kind of gal who's into dressing up daily, then this Gigi-approved look is ideal for you. Got a Facetime date planned (YUS)? Simply swap a pair of buckled sandals for heels and you're good to go.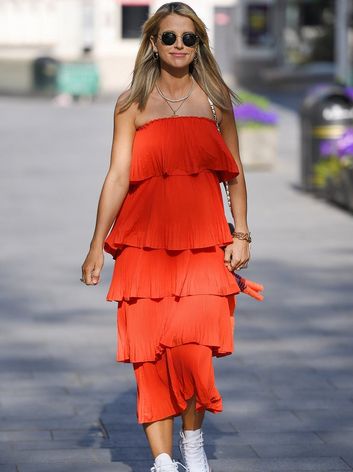 16. Vogue Williams in an Occasion Dress Styled Down with Trainers
We're all about occasion dresses. Need special plans to wear them? Never. Team a tiered style with trainers, round sunglasses and gold accessories for an easy-to-wear look that works just as well in the house as it does for supermarket trips. Win.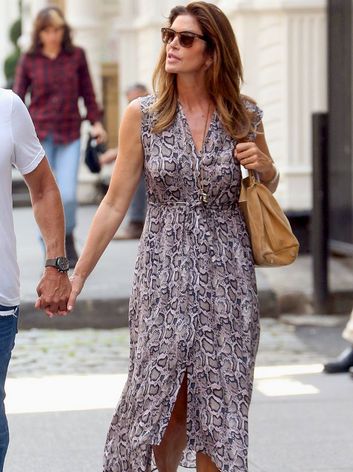 17. Cindy Crawford in a Snake Print Midi Dress and Flip Flops
Is it even possible to own too many animal-print dresses? Python works no matter what the season is and, right now, this pattern is a guaranteed mood booster for when you need a little lift. Cute brown flip-flops will 100% keep your spirits high, too.