Skip to content
Skip to navigation
Who's Wearing What
27 of Our Favourite Glastonbury Looks Ever
by Chloe Wilshere, Content Creator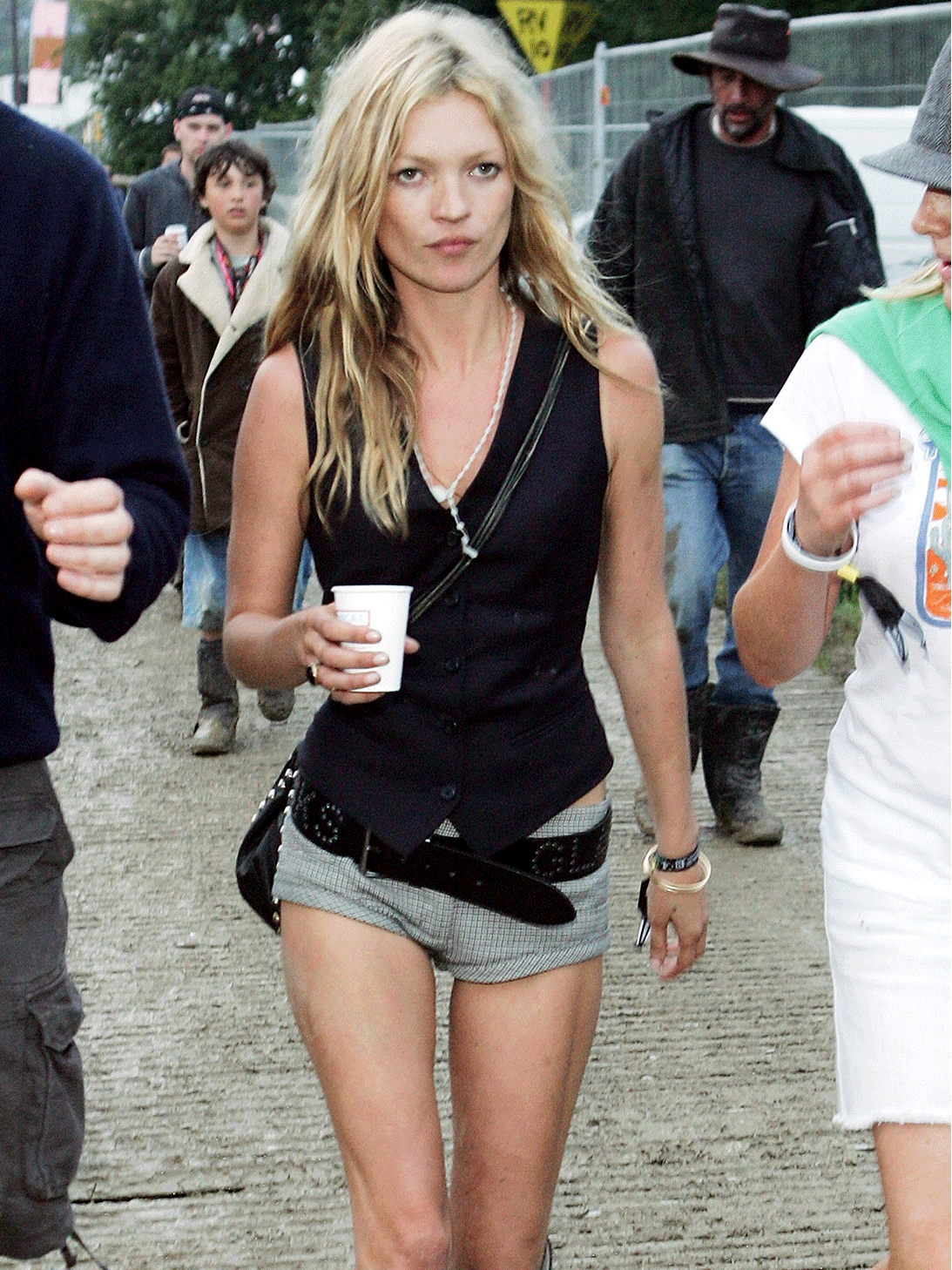 As June is what would have really been start of festival season in the UK, it's safe to say we're all going to be missing our dose of festival action this year. And most of all, the absence of a 2020 Glastonbury has left a big gaping hole in our hearts.

For many of us Glastonbury isn't just a festival, it's a part of our lives each year. Even for those of us who have never physically been, there's still nothing we look forward to more than an evening watching all the highlights, wishing we were there. As this year was set to be Glastonbury's 50th birthday, it was sure to be a big one too (we guess next year can now only be bigger and even better!)

Glastonbury is of course known for it's iconic line up, performances and acres of land, but it's also known for many iconic celebrity outfits. From Kate Moss's waistcoat-and-wellies combo (Kate has four looks in our Glasto round up, as is testament to her style icon status, and is also the only person who could ever pull off heels at Glastonbury), to Alexa Chung's silver metallic mini dress and Sienna Miller's perfectly-imperfect boho style.

There's nothing we love more than seeing what celebrities wear to Glastonbury each year, so seeing as we won't be able to see what they had lined up for their Glasto rucksacks this year, we've looked back at 27 of our favourite Glastonbury outfits ever.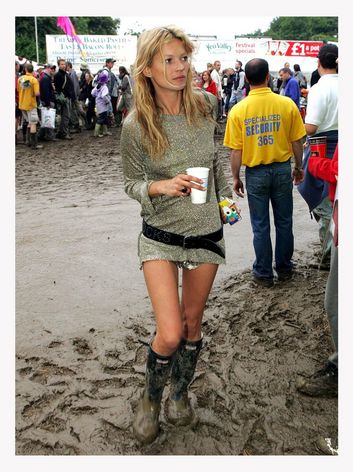 1. Kate Moss, 2005
Kate Moss has been attending Glastonbury since well… forever and with her multiple appearances have come multiple iconic outfits. We can simply never forget about the metallic mini dress she paired with knee high wellies and that iconic hip belt.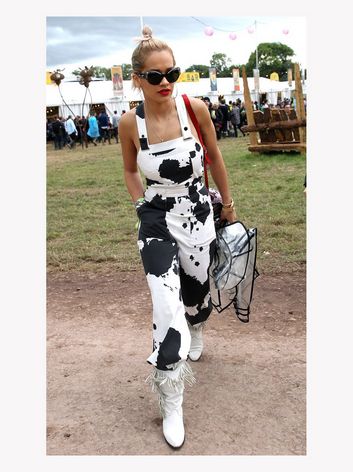 2. Rita Ora, 2014
There's simply nothing we love more than Rita Ora's Glastonbury 2014 look. A cow printed set of dungarees, white western boots, embellished sunglasses and see through rain mac - a perfect match to Rita's surroundings.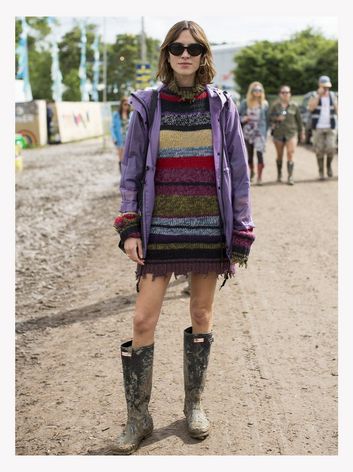 3. Alexa Chung, 2016
Alexa Chung's ragged knit jumper dress that she wore to Glastonbury in 2016 is exactly what we love about celebs' Glastonbury style. A dress she would probably never be seen dead wearing on the average day, but at Glasto it looks totally chic.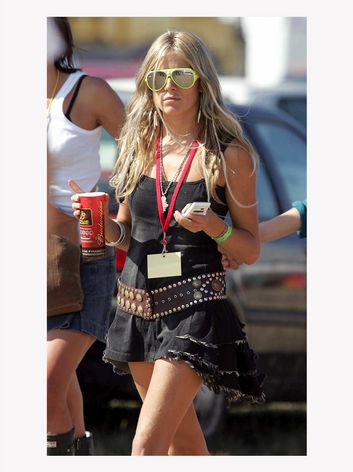 4. Sienna Miller, 2004
Oh to be back at Glastonbury in 2004 when skimpy boho dresses, chunky hip belts, ugg boots and, yep you guessed it, neon sunglasses were a thing. Sienna Miller has been a queen of nailing Glastonbury style since she wore this truly iconic festival look. This is one outfit we can certainly never forget.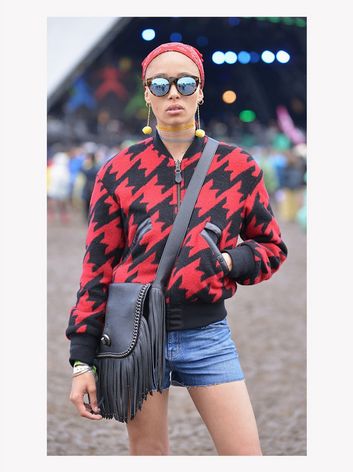 5. Adwoa Aboah, 2014
Adwoa nailed exactly what Glastonbury style is all about in 2014, wearing all the essentials you need for a festival in one go. A pair of denim shorts (no one wants to be wearing trousers at a wet & muddy festival), a warm jacket (you can never trust British weather), a fringed bag, funky earrings, mirrored sunglasses, a bandana and, lest not forget, multiple chokers. We'll definitely be taking notes from Adwoa for next year's festival season.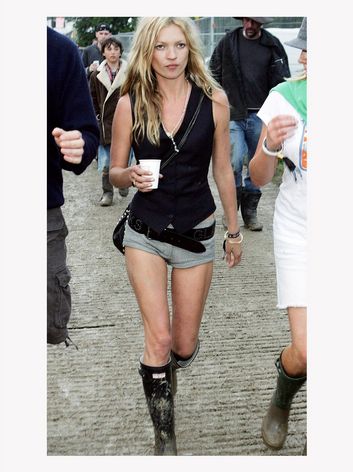 6. Kate Moss, 2005
Another classic Kate Moss look from Glastonbury 2005. This Pete Doherty-influenced waistcoat, micro shorts and wellies look is one we'd definitely still wear today. And the more we see it, the more we want that Glastonbury hip belt...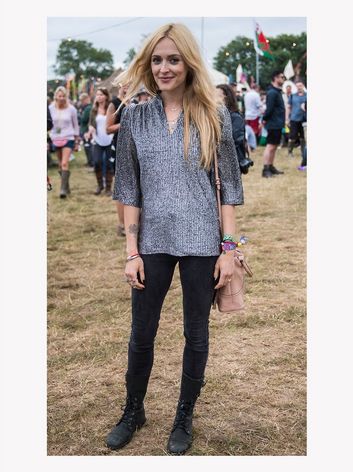 7. Fearne Cotton, 2017
It's not a festival if someone doesn't turn up wearing something covered in sequins. And Fearne Cotton certainly got in the festival spirit in 2017 in her sequin covered top paired with skinny black jeans and biker boots.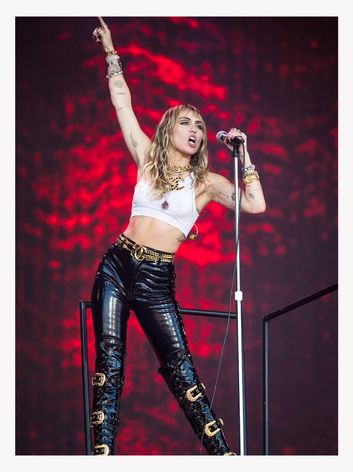 8. Miley Cyrus, 2019
Miley Cyrus' outfit that she wore to take on the Pyramid stage at last year's festival will certainly go down in the fashion history books. Her wet-look leggings, racer vest and gold jewellery are all the rage this year and we're definitely looking to recreate this look ourselves.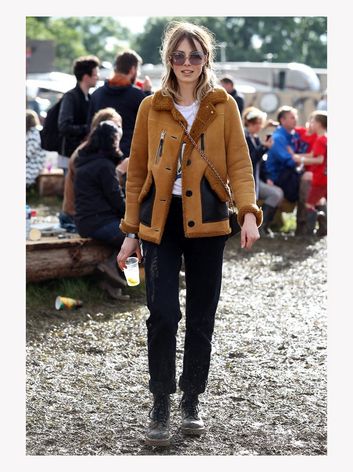 9. Edie Campbell, 2016
Edie Campbell embraced what Glastonbury is all about in 2016 having come prepared for mud, rain, warm weather and cold weather all mixed into one. If there's one thing for sure, a coat is an essential for Glastonbury's unpredictable weather and we love Edie's one!
10. Beyonce, 2011
We've said it before and we'll say it again, it's not a festival until there's someone wearing sequins. And Beyonce certainly brought the sequins for her headline performance on the Pyramid Stage in 2011.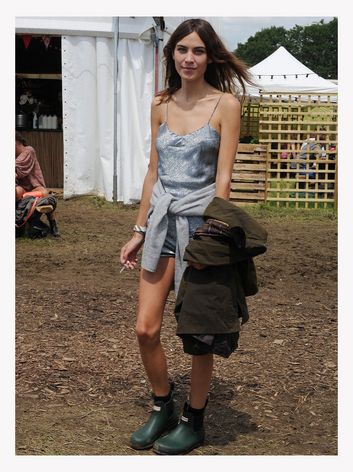 11. Alexa Chung, 2014
Alexa Chung is known for bringing her low-key glamour to Glastonbury, and the silver slip dress she wore to the festival in 2014 was a great example.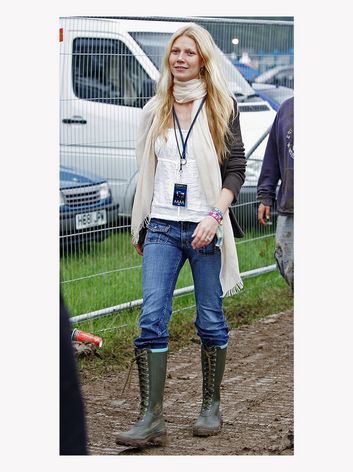 12. Gwyneth Paltrow, 2005
Amazingly, Glastonbury is probably one of the only places in the world that celebrities actually dress appropriately for their surroundings and the weather. Gwyneth Paltrow is no different to that. At Glasto in 2005 she took to the festival in knee high wellies, jeans, a cami top and jacket for warmth.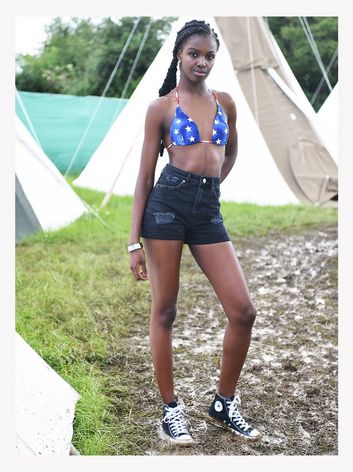 13. Leomie Anderson, 2016
Leomie Anderson showed off her supermodel physique at Glastonbury in 2016 in a USA-inspired bikini top and black denim shorts. We'll certainly be recreating this look for the festivals we'll be throwing in the garden this year.
14. Lily James, 2015
Lily James embraced Glastonbury's carefree, boho chic style in 2015. Simply by wearing a black sweat, shorts, biker boots and accessorising with a cross body bag and round sunnies, she was ready to dance the night away.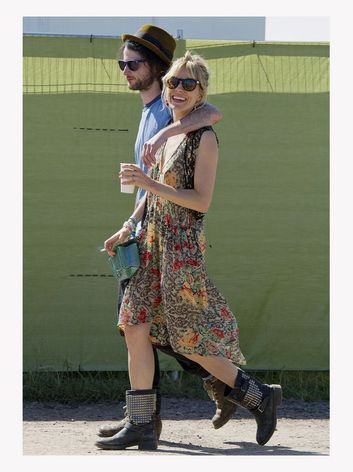 15. Sienna Miller, 2013
Worlds away from her Glastonbury look in 2004, but equally with the same boho edge. Sienna Miller always nails carefree festival dressing and this floral midi dress with biker boots was no different.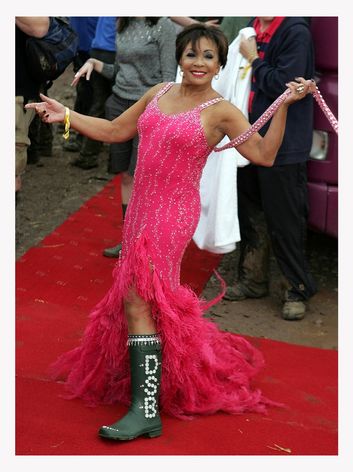 16. Dame Shirley Bassey, 2007
Now it doesn't get much more iconic than Dame Shirley Bassey's outfit from Glastonbury in 2007. It's safe to say this could well be the most glamorous outfit the festival has ever seen. And we can certainly never forget the iconic personalised diamante wellies.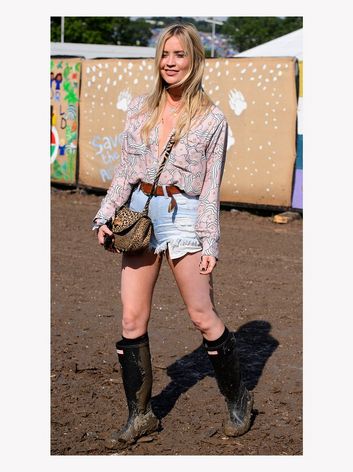 17. Laura Whitmore, 2016
Laura Whitmore is the queen of laidback festival style, and we loved her shorts-and-boho-blouse combo from Glastonbury 2016.
18. Adele, 2015
In true Glastonbury style, Adele embraced the festival's boho spirit in an embellished bell sleeved top paired with jeans, boots and some oversize sunnies.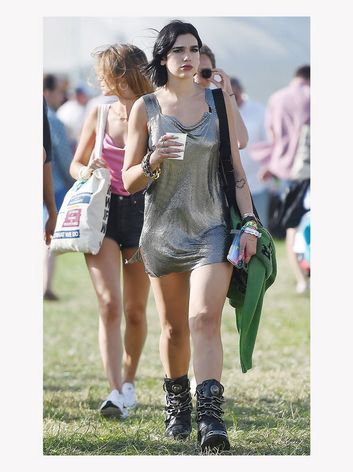 19. Dua Lipa, 2019
Over recent years we've been loving Dua Lipa's Glastonbury style. And this Alexa Chung/Kate Moss-inspired metallic mini dress certainly caught our eye last year.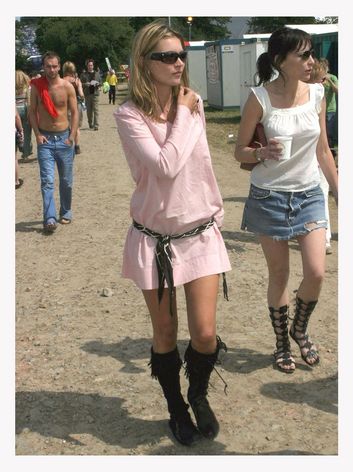 20. Kate Moss, 2003
The hip belt strikes again for Kate at Glasto 2003, this time worn in the form of a scarf. Worn with a pink smock dress and fringed boots, we'd totally wear this outfit again today.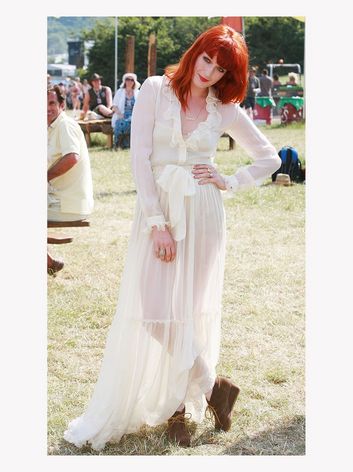 21. Florence Welch, 2010
True to both her own and Glastonbury's style, Florence Welch wore the chiffon midi dress of dreams to Glastonbury in 2010. With chiffon midi dresses being so on trend right now, we'll definitely be saving ours to wear to next year's festivals.
22. Lottie Moss, 2019
Now it's known that when it's hot at Glastonbury, it's HOT! And Lottie Moss dressed appropriately for last year's warm weather in a linen shirtdress with western belt and hat to keep the warmth at bay.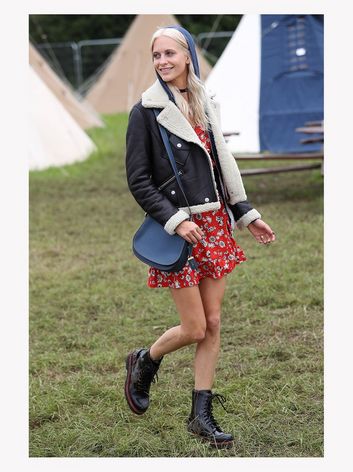 23. Poppy Delevingne, 2016
Poppy Delevingne is known for her killer Glastonbury outfits and this red floral mini dress is just one of many. She gave it the ultimate cool girl edge by pairing it with a shear-lined biker jacket, hoodie and biker boots.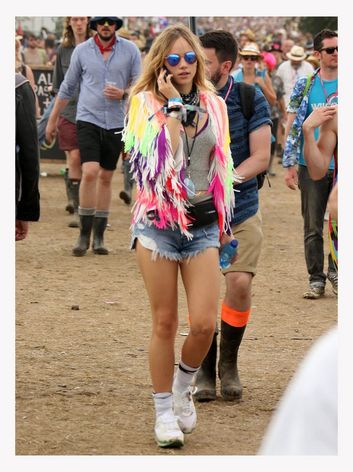 24. Suki Waterhouse, 2015
Suki Waterhouse wore the festival coat of dreams to Glastonbury in 2015. It's not a festival without someone wearing a fringed jacket right?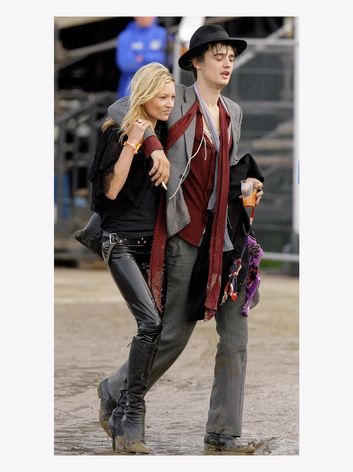 25. Kate Moss, 2007
Kate's fourth appearance on our list and it's safe to say Miss Moss is the only person who could pull off wearing high heels to a rainy festival without getting stuck in the mud and still manage to look cool. It's safe to say we're all jealous of this ability and this look.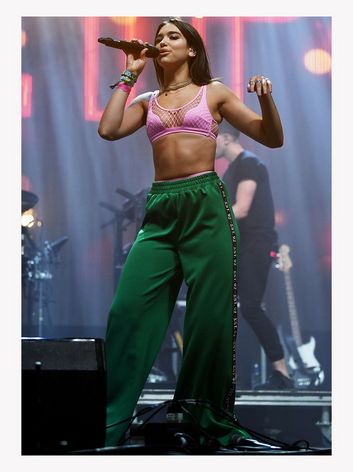 26. Dua Lipa, 2017
New to the music scene in 2017, Dua Lipa showed us she was here to stay with the sports-inspired outfit she wore to perform. We want to recreate this sporty chic look all day, everyday.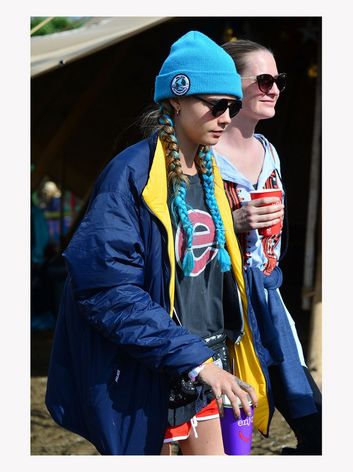 27. Cara Delevingne, 2016
Cara Delevingne can always be spotted at Glastonbury in eccentric outfits. But in 2016 it was her hair that did the talking. We wouldn't mind some bright blue French plaits to distract from our roots right about now…