Skip to content
Skip to navigation
Who's Wearing What
Queen Elizabeth's Best Style Moments Through The Years
by Emma Menteath, Editorial Lead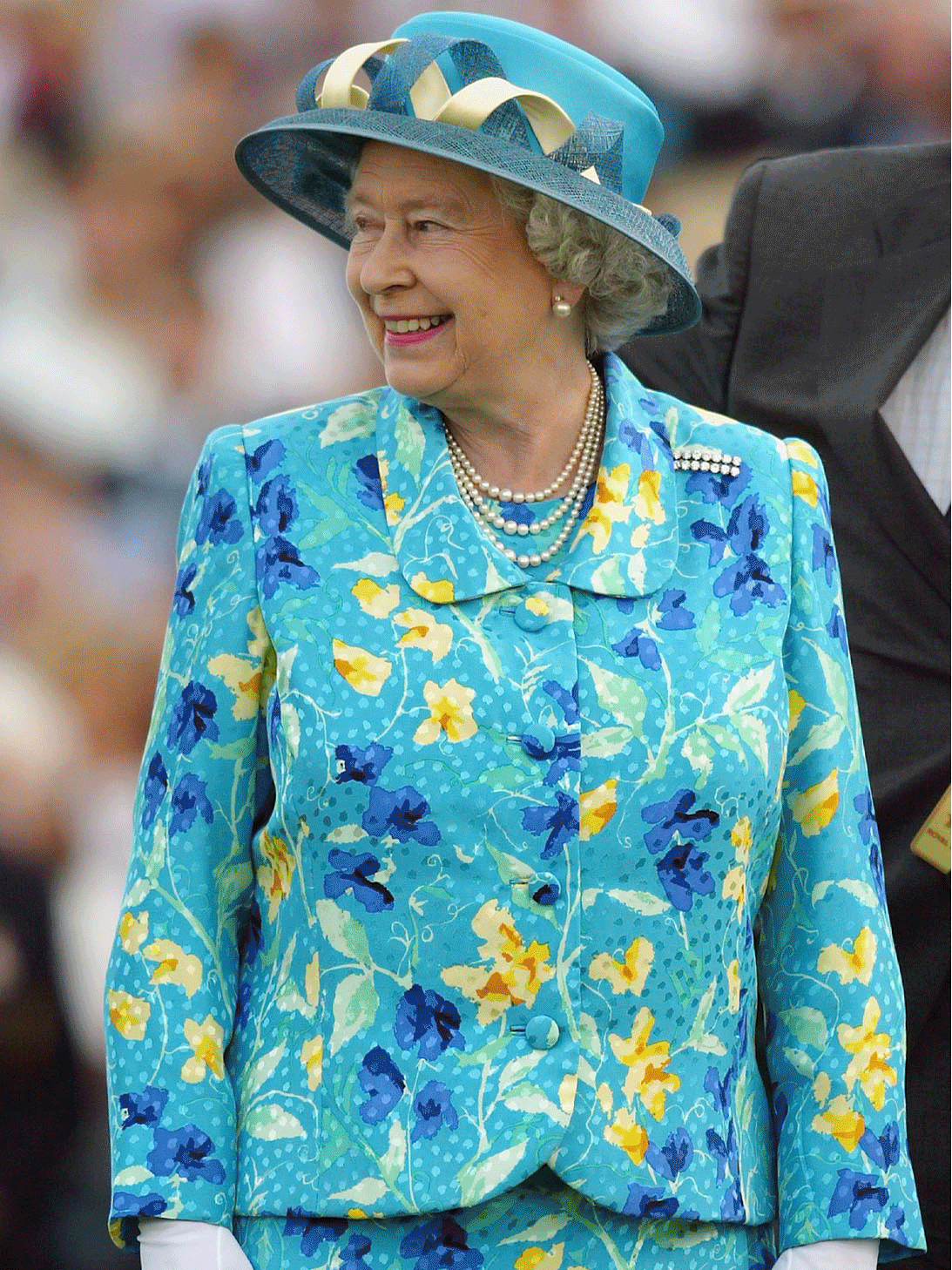 In The Queen's 9 decades, 6 as a monarch, has she very rarely stepped out of place with regards to her style, and it's for that very reason that Queen Elizabeth is in fact, one of our great British style icons.

It's not easy making fashion decisions under the scrutiny of the public, but in classic royal style, The Queen never puts a foot, or a patent leather court shoe, wrong.

We've come to identify certain items as The Queen's style go-tos. Think brightly coloured co-ords – cue the lime green coat and dress ensemble she wore to Harry & Meghan's wedding in 2018 that took over our insta feeds - patent pumps, silky gloves and delicate brooches.

Keep scrolling to discover The Queen's style evolution through the decades. So sit back, re-watch The Crown on Netflix and pour yourself a G&T…

God Save the Queen.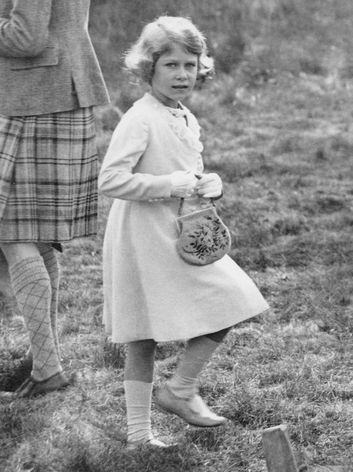 1/60
1933 - A stylish 7-year–old in silky gloves, knee high socks and a trusty clutch bag. Already a style icon.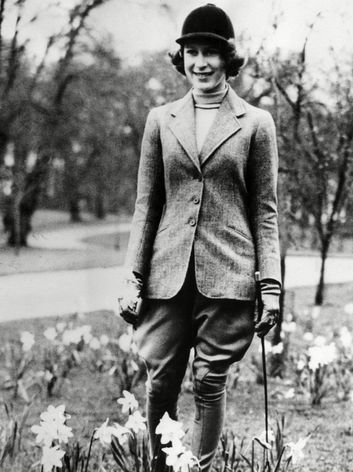 2/60
1940 - Picking daffodils after her much–loved riding lessons on her 14th birthday.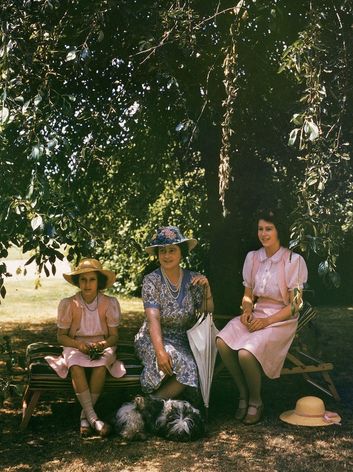 3/60
1941 - Queen Elizabeth embraces the puff sleeve trend in her baby pink co-ord while having tea in the garden with her The Queen Mother and Princess Margaret.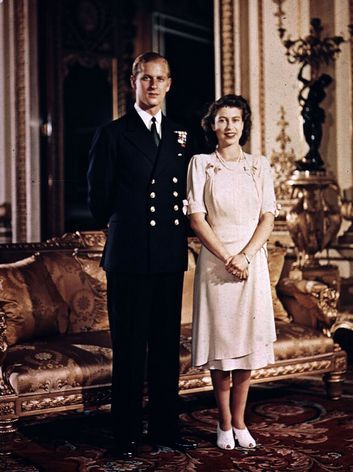 4/60
1947 - Announcing her engagement to Philip in a pale pink dress teamed with a string of pearls.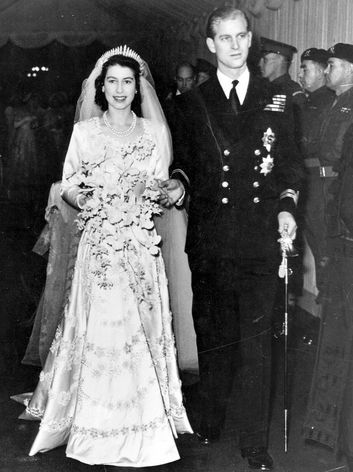 5/60
1947 - A Royal wedding gown that was purchased using ration tickets during WWII. Definitely one to go down in the history books.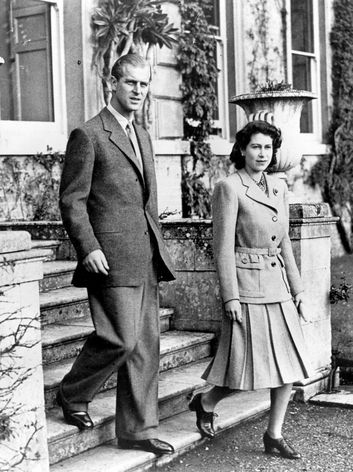 6/60
1947 - Departing for her honeymoon in a pleated skirt and belted blazer. Modest and classic.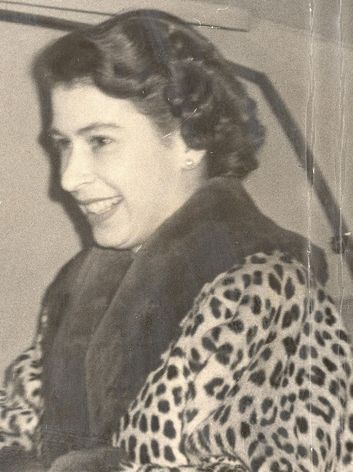 7/60
1952 - Even Queen Elizabeth has enjoyed embracing her inner wild animal in a leopard print coat.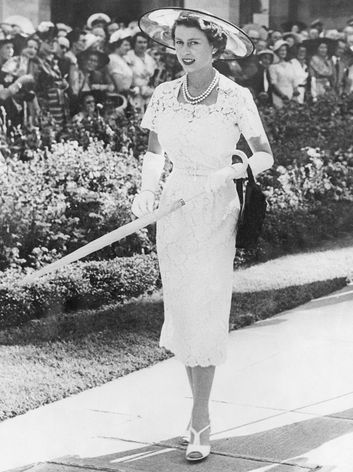 8/60
1954 - Looking elegant and sophisticated in Sydney in her slim–fitted white lace dress and sun hat. The ideal race outfit inspo.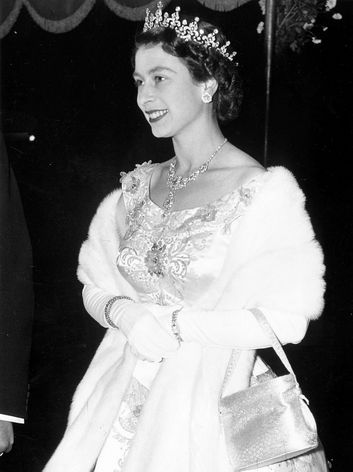 9/60
1955 – Looking every bit a Queen at the Royal performance of the film 'To Catch A Thief' in Leicester Square. What we'd give to see The Queen attending film premieres nowadays.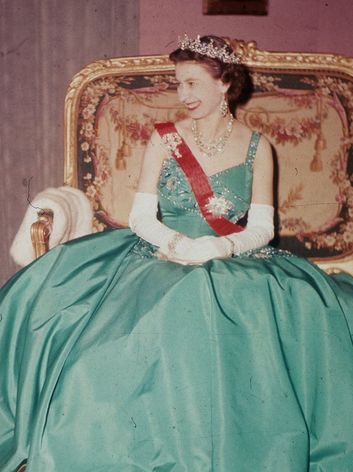 10/60
1957 – We've always loved The Queen in shades of blue.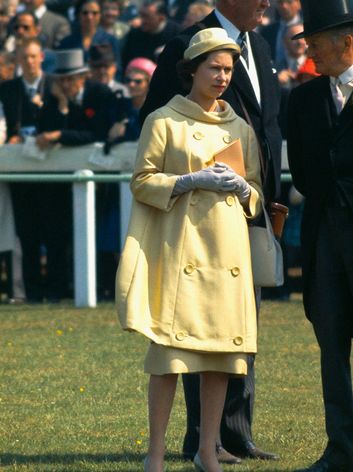 11/60
1960 - Don't you just love this pastel yellow flared overcoat with matching hat?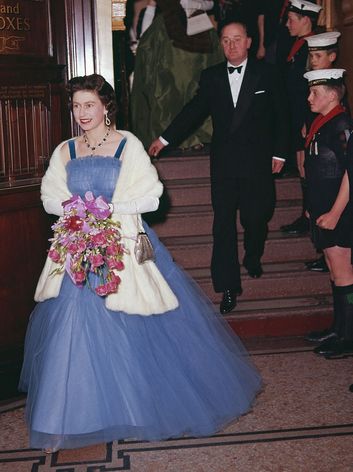 12/60
1962 - A dress all little girls dream of – an oversized tulle gown.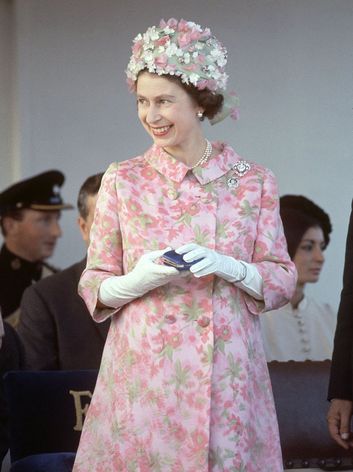 13/60
1967 - Queen Elizabeth in a pink and green patterned coat while on a Royal visit to Malta in the 1960s. A colour combo we will definitely be copying soon.
14/60
1968 - At Liverpool Street station in London with her favourite accessories – her corgis.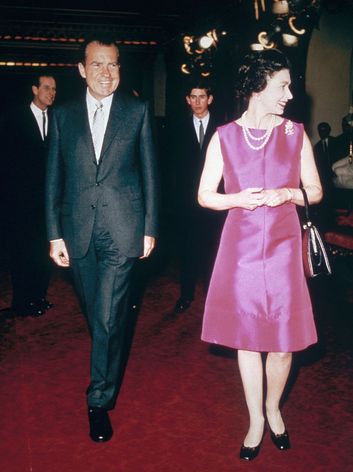 15/60
1969 - Out-shining President Nixon in a sleeveless pink dress.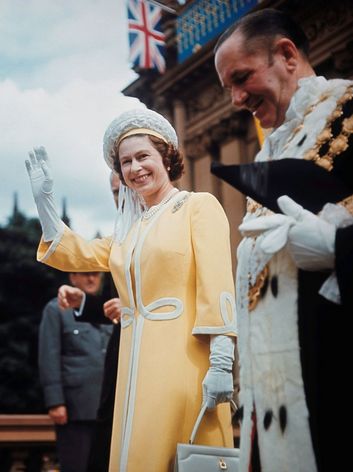 16/60
1970 - During her Royal Commonwealth tour of Sydney, Her Majesty wore a lemon coat dress with white accessories.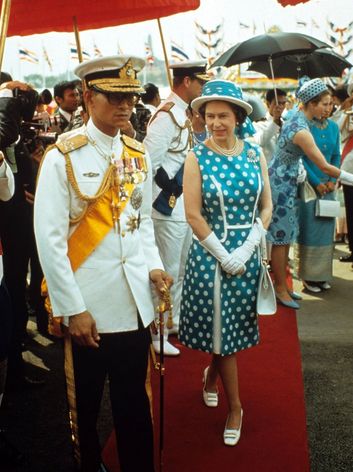 17/60
1972 - Opting for playful polka dots during her 1972 tour to Thailand.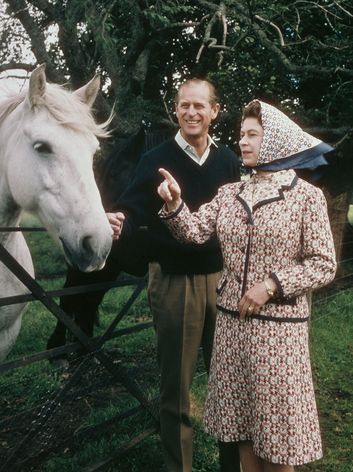 18/60
1972 – A matching 3 piece! We'll take it all. Headscarf included.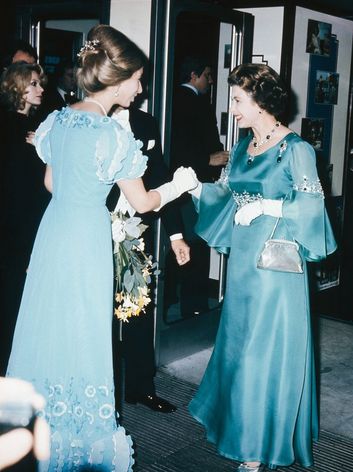 19/60
1974 - Queen Elizabeth in a silky blue gown with dainty jewels at the UK premiere of the film 'Murder'.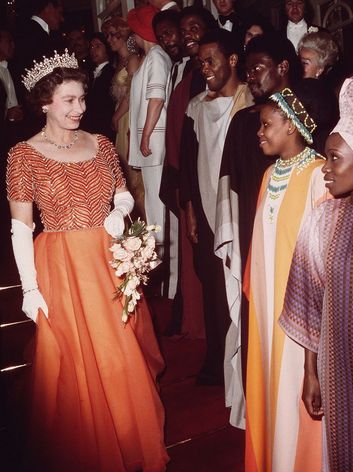 20/60
1975 - Standing out in an orange gown while meeting members of the Kwa Zula Dance Company after the Royal Variety Show.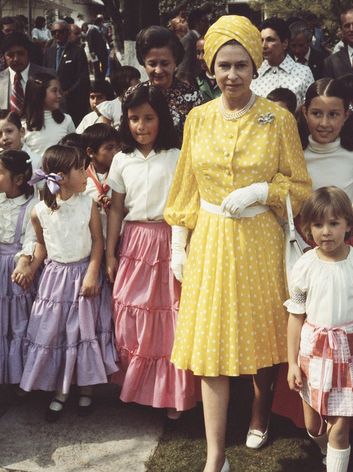 21/60
1975 - Queen Elizabeth spent time with a group of local children during her state visit to Mexico wearing a marigold-printed pleated dress and a turban-style hat.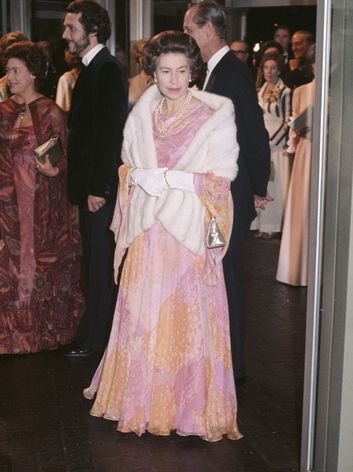 22/60
1976 - Pink and orange may be the must-have colour combo for 2020 but Queen Elizabeth first wore the combo back in the 70s.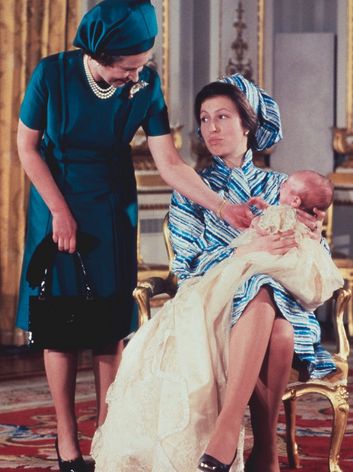 23/60
1977 - We can't get enough of Queen Elizabeth's headscarf collection.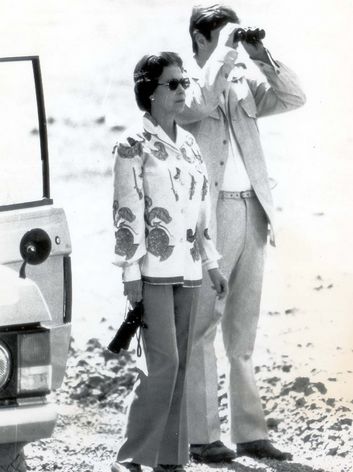 24/60
1979 - Flared trousers a button-up cardigan - an appropriate uniform when visiting Africa.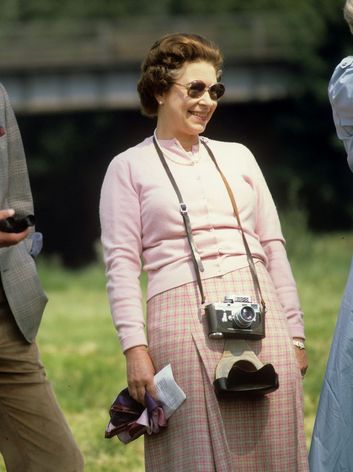 25/60
1982 - Opting for pale pink gingham while attending the Windsor Horse Show.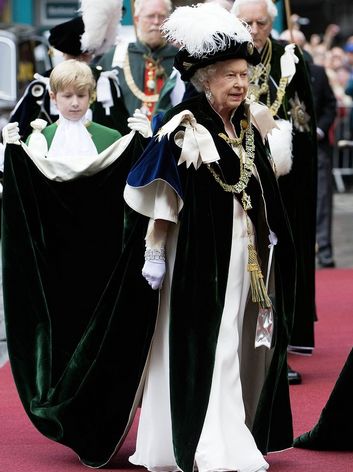 26/60
1987 - Only The Queen could pull off dressing like a pirate and make it look elegant.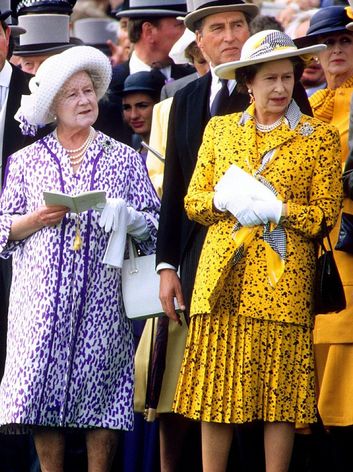 27/60
1987 - Standing out for all the right reasons – as usual – in a printed yellow skirt suit with a wide brimmed sun hat at the Epsom Derby.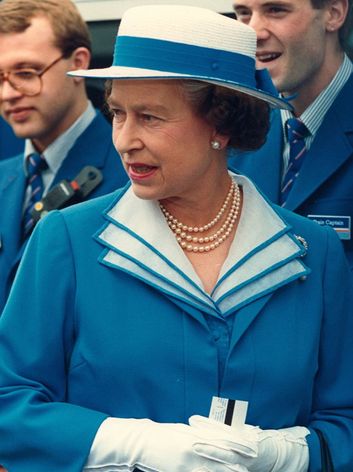 28/60
1987 - A collar to outdo all other collars. Don't you just love the fan detailing?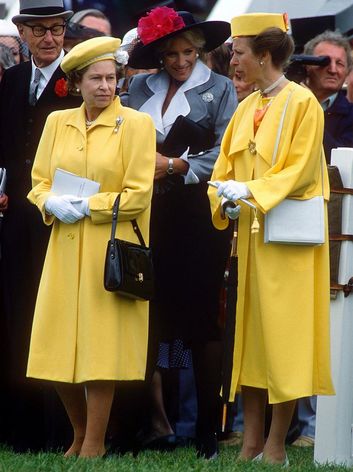 29/60
1988 - That time The Queen and Princess Anne wore matching buttercup yellow ensembles to the Derby races at Epsom Downs.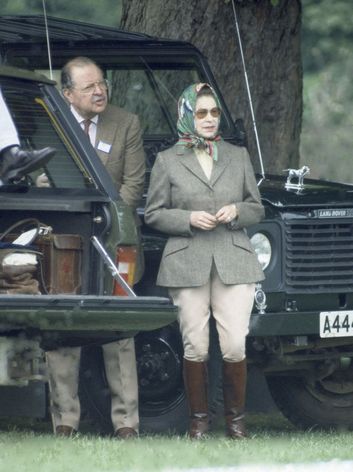 30/60
1988 - Photographed in riding gear and a printed headscarf at the Royal Windsor Horse Show. Tucking one's trousers into one's boots is always a style winner.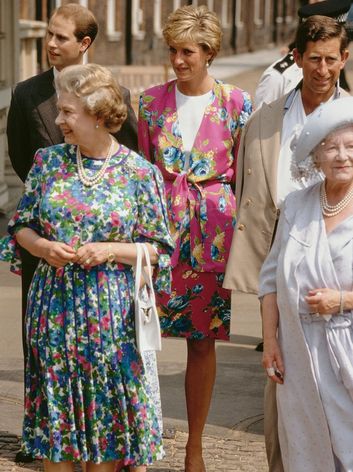 31/60
1990 - Embracing summer days in matching florals with Princess Diana.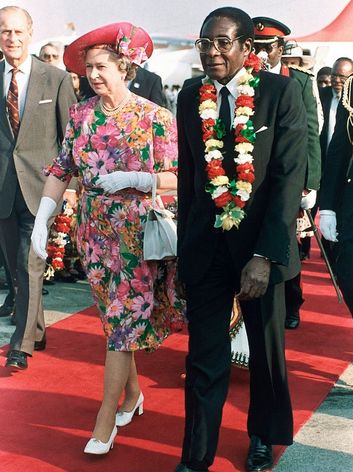 32/60
1991 - Queen Elizabeth's love for florals continues while visiting Zimbabwe in the early 90s.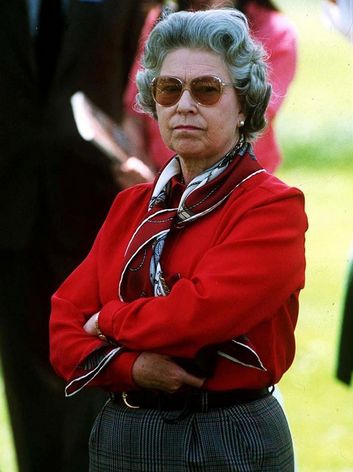 33/60
1992 - Prince of Wales check, bold sweater, tinted aviators. The Queen gains major style points for this outfit.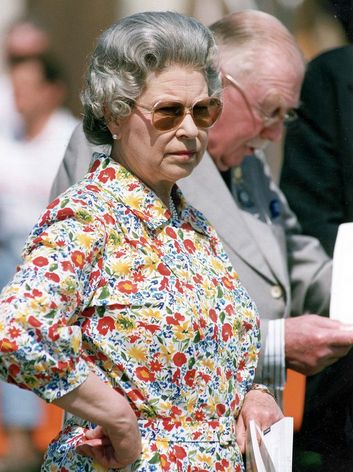 34/60
1992 - We'll take the dress… and the glasses, please.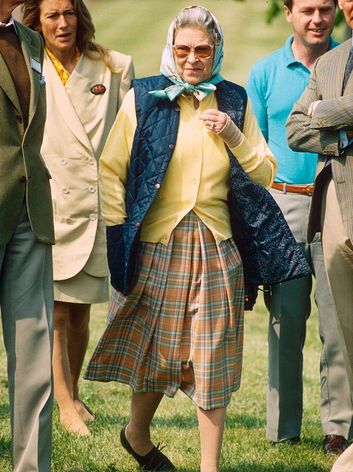 35/60
1994 - Looking at this outfit we can see how The Queen has influenced some of our recent coat purchases. You can't go wrong with a classic quilted coat for your weekend walks out.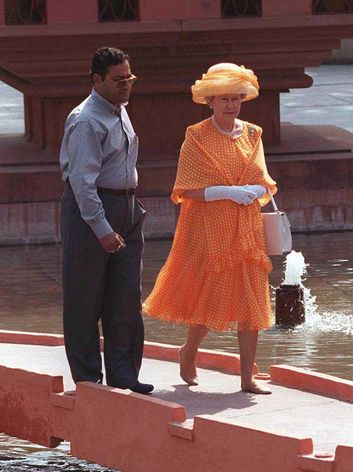 36/60
1997 - Matching India's colour palette during her 1997 tour of the country.
37/60
1997 - India definitely brings out the best of Queen Elizabeth's wardrobe.
38/60
1997 - Queen Elizabeth visiting the site of Gandhi's cremation in India.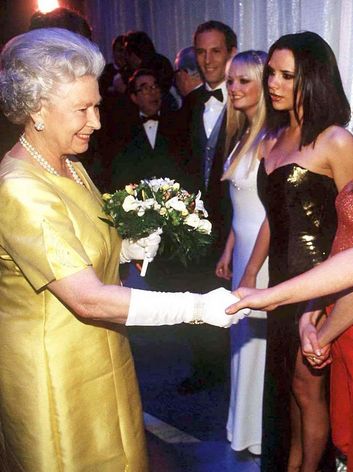 39/60
1997 - Showing VB and the rest of the Spice Girls how it's down in her short-sleeved yellow gown at the Royal Variety Performance in 1997.
40/60
2003 - She chose vibrant florals with a diamond bar brooch to attend the Cartier International Polo in Windsor.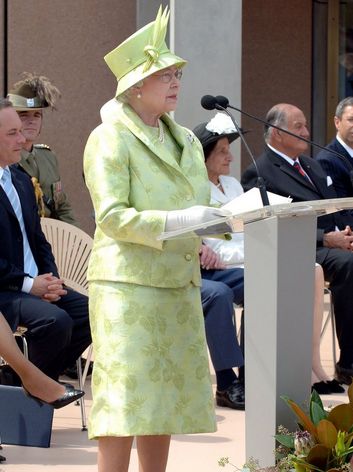 41/60
2006 - And so The Queen's love affair of green co-ords begins.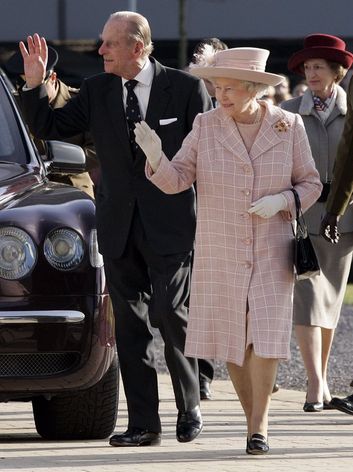 42/60
2007 - We love this girly head-to-toe pale pink outfit. We'd love a coat like that in our wardrobes.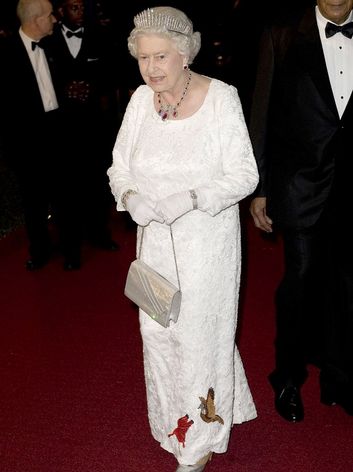 43/60
2009 - Forget the crown! The delicate detailing on the bottom of her gown makes this outfit.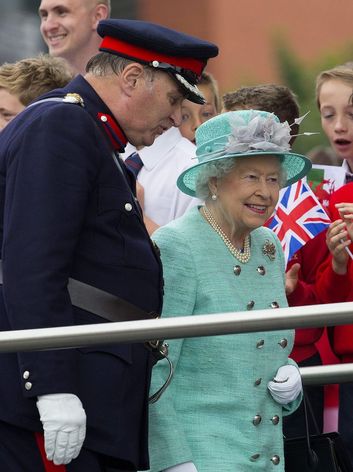 44/60
2010 - Arriving at the Welsh National Building in a rather calming turquoise ensemble.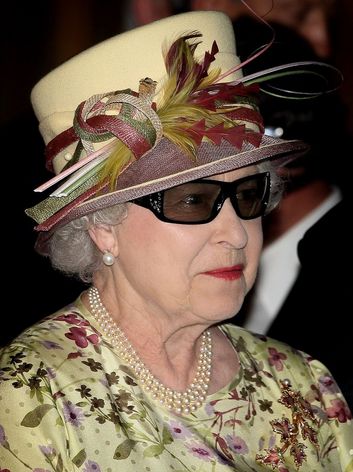 45/60
2010 – Is it just us, or did Queen Elizabeth nick Bono's glasses?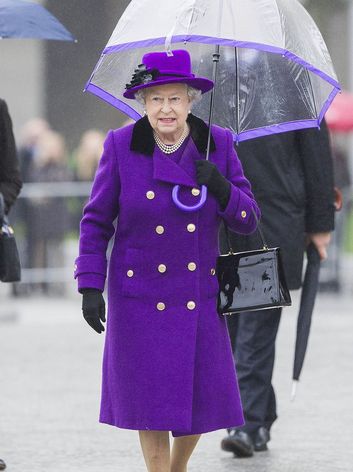 46/60
2012 - Take cue from her Majesty and match your umbrella to your outfit this winter.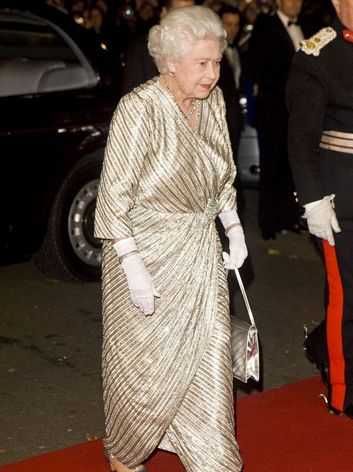 47/60
2012 - Arriving at the Royal Variety Performance wearing a beaded gold dress with matching metallic shoes and one of her many diamond necklaces.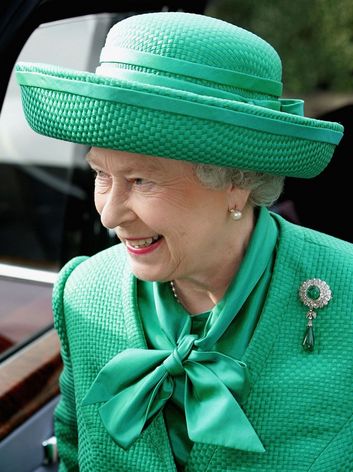 48/60
2012 - The Queen goes for green in this outfit.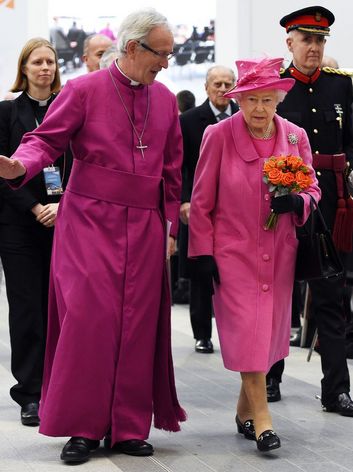 49/60
2015 - Only The Queen could pull of matching her outfit with a bishop.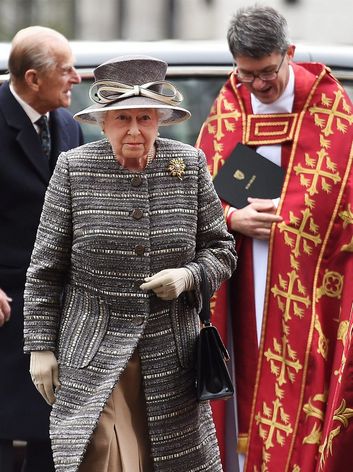 50/60
2015 - Accessorising with a giant bow in her hat.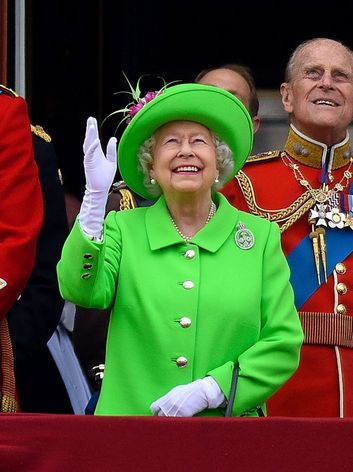 51/60
2016 - The Queen's most standout outfit to date. It was this particular outfit that reminded us why The Queen, lest we forget, is one of our greatest style icons.
52/60
2016 - We can't help but notice the adorable scalloped edges on The Queen's overcoat.
53/60
2016 - Arriving at Royal Ascot in a blue overcoat and an appropriate hat for the races.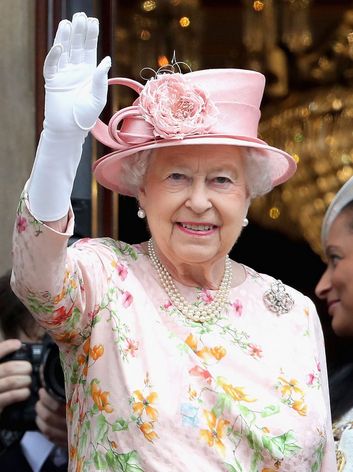 54/60
2016 - A look we'll be copying for our next high tea. Please and thank you.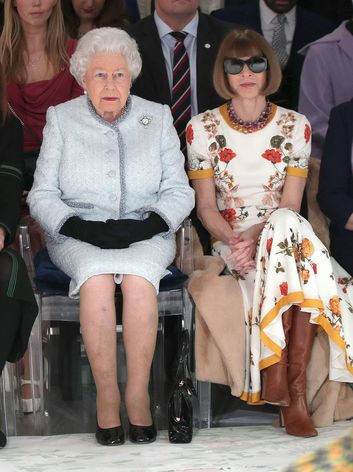 55/60
2018 - Yup, that's The Queen sitting next to fashion's queen bee, Anna Wintour. We wonder if they're secretly besties.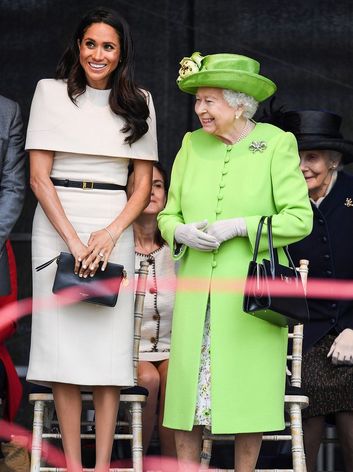 56/60
2018 - Her Majesty opted for another lime ensemble to accompany the Duchess of Sussex on her first Royal appointment.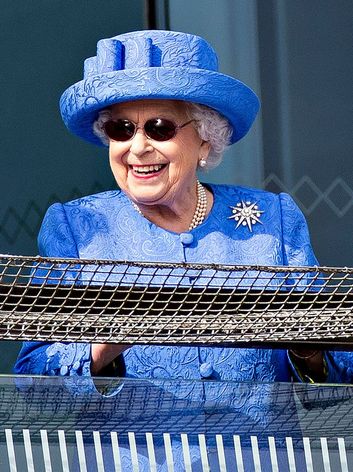 57/60
2019 - Make like her Majesty and keep calm and carry on smiling.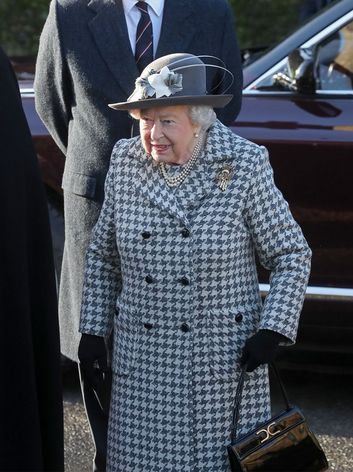 58/60
2020 - Photographed leaving church in Sandringham in shades of grey and coordinating accessories.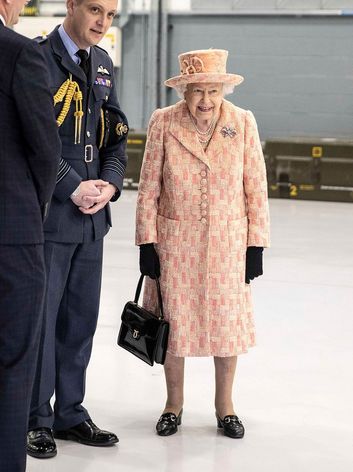 59/60
2020 - The Queen chose a pale peach ensemble with her signature Launer handbag to visit a Royal Air Force base. Yes, we spy the loafers too.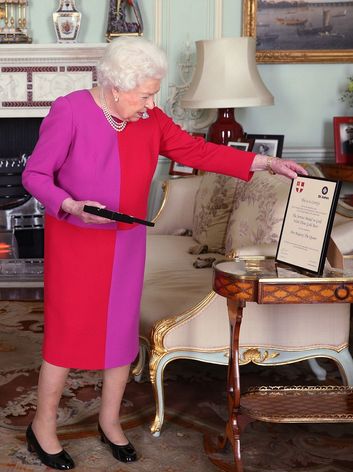 60/60
2020 - Opting for a colour block shift dress while receiving guests at the palace.